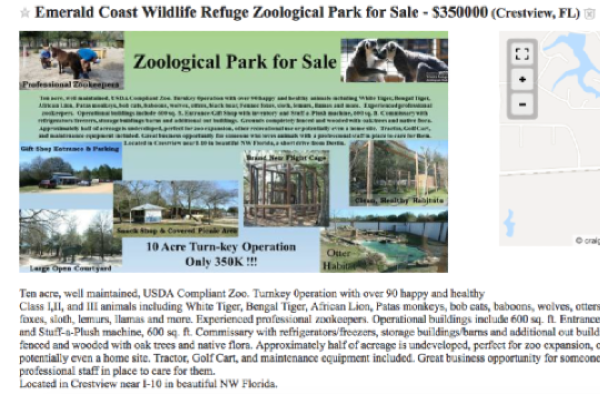 Does your little one have a birthday celebration coming up, and do you happen to have a casual €240,000 laying around the house? Well, why not buy your kiddo a proper ZOO.
No, we are not talking about a toy zoo, or even a petting zoo equipped with rabbits and guinea pig - this zoo is the real deal.
We recently came across a listing on Craigslist where a zoo in Australia is up for sale for a cool $350,000 (AUS), and it comes with some seriously wild extras.
The 10-acre plot comes with a number of wild and exotic animals "including a White Tiger, a Bengal Tiger, an African Lion, Patas monkeys, bob cats, baboons, wolves, otters, a black bear, Fennec foxes, sloth, lemurs, llamas".
The zoo, which is available on craigslist, comes with a staff of experienced professional zookeepers, an operational gift shop with inventory, storage buildings, and several barns. "Great business opportunity for someone who loves animals with a professional staff in place to care for them," the advertisement explains.
The sale of the zoo comes just four years after the current owners bought the land from a private zoo. The private zoo had fallen into a state of disrepair, according to a local Emerald Coast newspaper, as its former owners struggled to keep up with the financial demands of 10 acres of land and 100 exotic animals.
So, if you are an animal lover, or a millionaire - this may just be a fantastic investment for you.
Talk about a gift that keeps on giving.