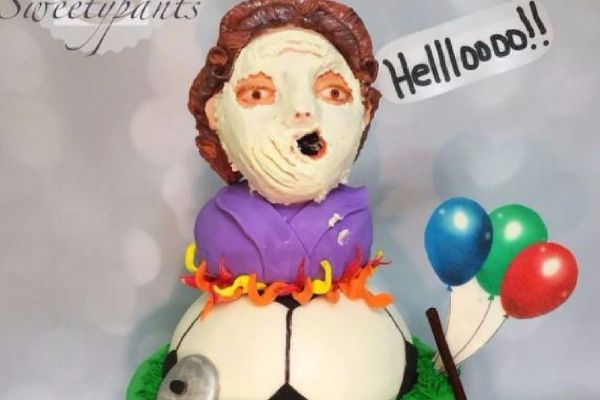 We've all racked our brains for a kid's birthday party theme at one stage or another. Theme parties are great fun and we always want to give our little ones the best experience possible.
We're pretty accustomed to requests for unicorns, Disney characters, superheroes and sports themed parties but this is one theme we've never heard of before.
Mum Laura Kowalski got a surprise when she asked son Evan what theme he would like for his fourth birthday party. She thought the little boy might like a soccer or animal theme party but she was VERY wrong.
Nope, instead, Evan wanted a Mrs Doubtfire birthday party! He had seen the movie six months ago and had been obsessed with the story ever since.
"I tried to talk him into doing just a soccer cake, like (Matthew Lawrence's character has) in the beginning of the film, but that wasn't good enough," Kowalski told EW. "So, I had to figure out how to make it possible."
Like every mum, Laura was determined that her little boy would have the party he dreamed of.
A 4-year-old requests a #MrsDoubtfire-themed birthday party—and his mom goes all in: https://t.co/Z7KNcDmPI6 pic.twitter.com/MZyjaQWNuz

— Entertainment Weekly (@EW) May 24, 2017
So, she set about finding a cake that depicted Mrs Doubtfire with the pie on her face, personalised goody bags which said, "thank you for coming dear" and making "it was run by fruiting" fruit salad skewers.
But finding a Mrs Doubtfire cake proved to be challenging, after all, it's not your standard Pinterest fare.
After posting an appeal on Facebook, Laura was contacted by baker Angie Claxon who decided she had to help create Evan's dream cake.
Angie baked the amazing cake at her bakery Cakes by Sweetypants and tried to incorporate as many elements from the movie as possible to make young Evan happy.
The end result featured Mrs Doubtfire's head and torso above a football base with her broom and dentures beside her. How amazing is it?!
A children's entertainer dressed up as Mrs Doubtfire would have made the party complete but unfortunately, Laura couldn't find someone to play the role.
However, little Evan was thrilled to bits with his amazing birthday party theme. It was a dream come true for the imaginative little boy.
Laura knows she now has her work cut out for her next year, we wonder what movie buff Evan will ask for on his fifth birthday.
Such an incredible and creative mum, we think she is amazing.