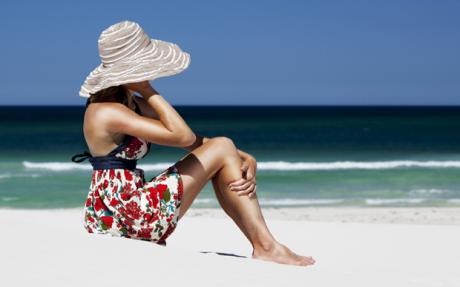 After days of planning and packing, it's time to enjoy a little pre-holiday pampering to ensure you look your best during your time away.
Body buffing
For a final bikini-beautiful body prep, treat yourself to an exfoliating and hydrating all-body treatment to ensure your skin is primed to look its best on your holiday. A full body exfoliation not only leaves skin silky smooth, but will help prep it for an even tan, while an all-over deep moisture massage will promote a healthy texture and natural glow.
The facial
The most essential part of holiday-prepped skin has to be the facial. While our skincare regime may serve us well, it's always a good idea to top it up with a specialist treatment to stimulate circulation, reawaken natural radiance, and soothe and hydrate tired skin ready for a relaxing holiday.
Luxe your lashes
Make sure your lashes are fabulously lustrous in time for your trip, by treating them to a tinting session if they're a little on the pale side, or to add extra fullness and length try adding a natural set of strip lashes.
Long lasting mani & pedi
Give nails a hot holiday makeover with a longer lasting mani and pedi which will look nail-bar-perfect all trip long.
Spray tan
Get a natural glow before you go with a pre-holiday spray tan. A quick and easy treatment, the spray tan makes sure of even coverage and offers a huge range of different shades - so there's a glow to suit all.
Sculpt your silhouette
If you haven't quite reached your target tone in time for your trip, or you're worried about pesky orange peel, why not supplement your exercise regime with a last minute sculpting body wrap. Most specialist body wrap treatments will help you lose a few inches off your key areas using different wrapping techniques combined with specialist massage and targeted anti-cellulite ingredients. A relaxing way to reduce the appearance of stubborn fat, but remember, the effect only tends to last a few days unless you opt for a course of treatments. Remember to make sure you book in for a treatment just before you leave for your trip.

Hydrate your hair
De-stress your tresses and treat them to a hydrating and nourishing pre-holiday treatment with a specialist salon masque. The perfect way to start a holiday with silky soft, happy hair and soothed scalps.
Hair removal
The absolute pre-requisite of pre-holiday planning, hair removal is essential to a happy, carefree vacation. And while waxing and threading offer a quick fix, lengthier treatments such as IPL sessions offer a longer term removal option.

Brow shaping
Give bored brows a quick pick-me-up by going for the perfect arch and totally transforming your look. Whether you're after a total reshape, taming or a tidy-up, dedicating a little time to your brows can achieve big results.
Image via Pinterest.