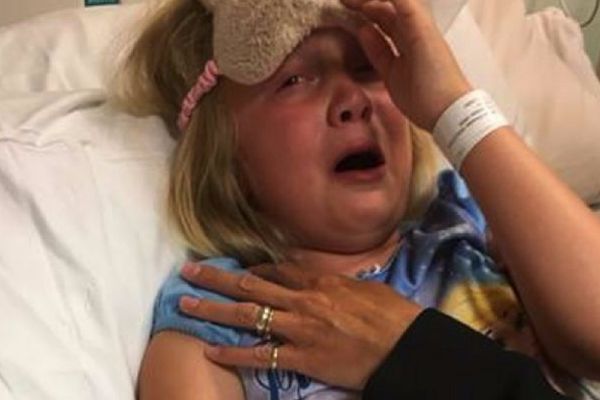 Please be advised this post contains graphic images which some may find distressing.
A little girl has been left in agony with horrific blisters and scars after getting a black henna tattoo on holiday.
Little Madison Gulliver from the Isle of Wight was staying with her family at a luxury resort in Hurghada, Egypt.
When her mum became ill with a gallbladder infection, her dad Martin allowed Madison, seven, and her brother Sebastian, nine, to get henna tattoos in the hotel's salon as a reward for being good.
Madison chose a floral pattern which stretched from her fingers on her right hand, all the way up her arm to her elbow.
Her older brother complained that his design was itchy and washed it off. After returning home from holidays, Madison complained that her arm was itching and blisters began emerging.
Her parents took her to the doctor who prescribed steroid cream but it had no effect on the blisters which continued to swell.
After five trips to hospital, Madison was finally referred to burns specialists at Salisbury District Hospital.

Her family had been researching black henna tattoos online in the meantime and grew concerned when they learned many people suffer reactions to paraphenylenediamine (PPD), a toxic chemical in black henna.
Doctors carried out a test on fluid from one of Madison's blisters and discovered it had a high PH level, indicating a chemical burn to the skin.
"They decided to treat the skin by removing the blisters, so they could access the burned skin underneath," dad Martin told The Metro.
The brave little girl had to endure having the painful blisters cut off her hand and arm.
"They thought they would be able to soak the blisters and rub them off, but that wasn't possible as they were so thick, so they had to cut them off", Martin explained.
"She wanted to see what they were doing so we couldn't get her to look away, she was really good and kept saying 'you've missed one' ".
Madison now must wear a pressure bandage for at least six months to minimise scarring.
Martin said he wants to warn other families about the dangers of these tattoos.
"We have emailed the hotel but they said there's nothing wrong with the henna, and it must be a problem with my daughter," he said.
"When I responded I sent back a link to the dangers of it and told them to talk to their own doctor, who was trained in the UK.
"We don't want compensation, the main thing is to care for Madison and minimise the scarring because we don't want her growing up with a scar for the rest of her life", he added.
Girl, 7, left with horrific chemical burns and blistered scars after getting black henna tattoo in Egypt https://t.co/RJ6fXhgog5 pic.twitter.com/njbSIJRV0q

— Daily Express (@Daily_Express) August 16, 2017
The hotel eventually apologised and said they will no longer offer black henna tattoos.
An email to Martin from Heike Moursy, guest relations manager of Fort Arabesque Resort, Spa & Villas reads: "On behalf of the owner of the Beauty Centre we apologise again for what has happened to your daughter.
"Our General Manager Mr Max Shoukry have spoken with the owner of the beauty centre to stop the offer of any henna tattoo.
"We know this does not help your daughter but we wish her to get well soon (sic)".