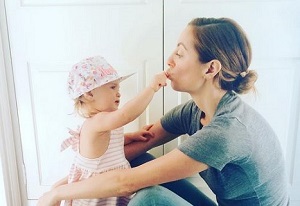 Going through a miscarriage is an ordeal in itself, and one that many women prefer to do so in private, surrounded by their loved ones.
However, when actress Eva Amurri Martino suffered a miscarriage at nine weeks pregnant, she decided to share her story with the world and reach out to other women who have had the same heartbreaking experience.
The former Californication star, who wrote a moving column about her experience last month, has now opened up about the incredible impact her words have had on others.
"I didn't really know how I was going to feel about sharing, I just knew I felt really strongly about sharing it. I couldn't have known how healing it was going to be. It was an amazing process to hear from other women who had gone through the same thing," she told People.
The 30-year-old, who is the daughter of legendary actress Susan Sarandon, added: "There are women all over the world experiencing the pain and heartbreak that I felt. Unfortunately, the fact that it became a news story dictates more how little people share."
Ava, who has 13-month-old daughter Marlowe Mae with husband Kyle Martino, admitted that the response from other women has encouraged her to charge ahead with her new lifestyle website.
"What moved me so much was other women speaking to each other and comforting each other on my website. That's really what made me decide that I want to continue to do this for a long time," said the mum-of-one.
It's always great to hear how one person's experience can help others. Well done, Eva.