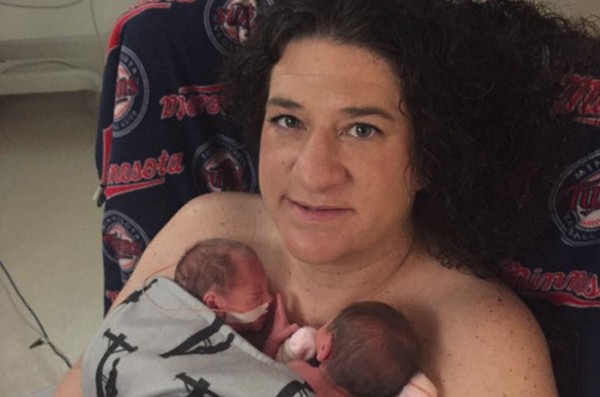 Anyone who has experienced infertility will be familiar with the heartache that Allyson and Tony Ponto went through for 10 years – and will be delighted with their recent news.
After a decade of struggling to conceive, and four miscarriages, the couple welcomed quadruplets into the world earlier this month.
With the help of IVF, babies Morgan, Carolyn, Anna and Olivia Ponto entered the world at 32 weeks – and are the light of their parents' lives.
Allyson shared her story with Us Weekly, admitting that after so much heartache, she was totally taken aback to discover they were expecting the quads.
Despite being 'prepared to be let down' throughout her pregnancy journey, the tots were delivered safe and sound on July 4.
"I cried as soon as I heard each one of them cry. Tony would tell me who was coming out, and I would listen and listen," she told the publication.
"Four different times, and it was the best sound I have ever heard in my entire life."
The four newborn girls are said to be 'thriving' while they remain in hospital for a little extra care.
Allyson and Tony have been sharing insights into their journey over on a Facebook page, '4 Peas In A Ponto', including gorgeous photos of their newborns.
In one of her recent posts, proud new mum Allyson shared gorgeous photos of herself enjoying skin-to-skin with her little ones.
"First time out of the womb together…Just precious! Tony is holding Morgan and Carolyn, and I am holding Anna and Olivia," she wrote, in the caption.
The babies were originally due on August 31, and the Pontos are now hoping that they will be discharged from hospital by the time that day comes around.
A fundraising page has been set up on behalf of the family, over on YouCaring (link here).
"We all know how expensive raising one child can be, but imagine having four newborns at once!" wrote family friend Miranda Clark.
"Allyson will no longer be able to work, beginning in the near future. Her loss of income, coupled with many trips back and forth from Hoyt Lakes to Minneapolis for doctor appointments, will lead to great financial strain for her and Tony when the newborns arrive."
Generous members of the public have so far donated almost $5,000 to the Pontos' newborn fund.
We are so delighted to hear that there was a happy ending to Allyson and Tony's story, and we're wishing them all the luck in the world with the journey ahead.