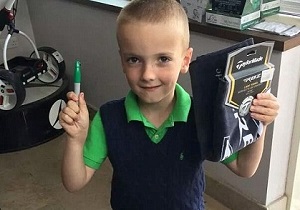 An inspirational seven-year-old boy is defying the constraints of a rare disorder in a bid to realise his greatest ambition in life.
Young Ben Brown suffers from a rare allergy to the sun, known as solar urticaria, but has vowed to make his dream of winning the junior golf world championships come true.
If exposed to UV light or radiation, or sometimes even visible light, Ben breaks out in hives and also suffers from nausea and migraines, and loses his strength.
Given the nature of his condition, Ben can only practice and play his beloved sport for a limited time during the day.
Despite the difficulties he faces when out on the course however, Ben has already participated in tournaments and hopes to go on and walk away with the trophy in the forthcoming junior World Championships at Pinehurst, North Carolina.
Commenting on her son's condition, mum Kathryn told MailOnline.com: "We have found a balance of two medications and a prescription suncream. While these don't take away the symptoms altogether, they do alleviate them enough to allow him to play golf for short periods."
Despite the setbacks that he faces, she added that his love for the sport and his ambition keep driving him forward: "For Ben, giving up golf is not an option…When Ben was asked what he wanted to be when he grows up, he told me he…that if he couldn't be a professional golfer he wanted to teach children to play."
What an inspirational little boy. We wish him all the success in the world with bringing his dream to life.