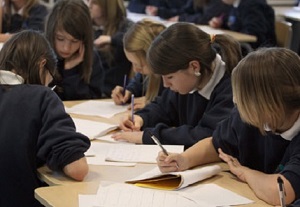 There is welcome news for the parents of children with Down syndrome today, as it has been announced that the Department of Education will be investing in new school resources for those with 'mild' cases of the condition.
The announcement was made by Minister for Education and Skills Jan O'Sullivan, who confirmed that the Government would be providing additional resources to schools whose pupils are not already supported through the National Council for Special Education.
While the news was welcomed by Pat Clarke and Mary Doherty, CEO and Chairperson of Down Syndrome Ireland, respectively, they said that the Government needs to do more for children living with the condition.
They shared their reaction in a statement, which read: "Today's announcement brings an end to a 10-year battle that families have endured and fought so desperately to highlight and change...We only welcome today's decision as an interim measure pending the overall roll-out of the new and so desperately-needed model of resource hour allocation for children with education needs which the Government has promised for September 2015."
They added: "A recognition of Down Syndrome as a disability in its entirety...would have spared our children and their families the continued trauma and expense of assessments, a system based more on bureaucracy rather than reality and logic."