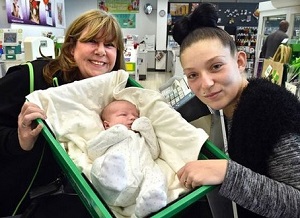 An Asda checkout worker delivered a customer's baby after she went into labour in a fitting room.
Rebecca Groves, 19, had just entered the store in Liverpool when her waters broke, and she took refuge in a changing room.
Asda employee Philly McCabe was performing a routine check of the store when she discovered Rebecca, who had phoned for an ambulance.
With an emergency operator guiding her through the process over the phone, Philly assumed the role of midwife and helped Rebecca through her labour.
Fetching towels and pillows, Philly followed the operator's instructions to deliver Rebecca's son, Joel, while the ambulance made its way to the store.
At one point the umbilical cord broke, with Philly tying it back together using shoelaces from the store.
Speaking to the Liverpool Echo after the incident, new mum Rebecca expressed her gratitude to Philly: "Without her, I don't know what would have happened, really. She was great."
Philly said that she felt "privileged" that Rebecca had allowed her to help: "When you're having a baby, you don't want all sorts of people invading your privacy. It was a lot for her to even let me do that."