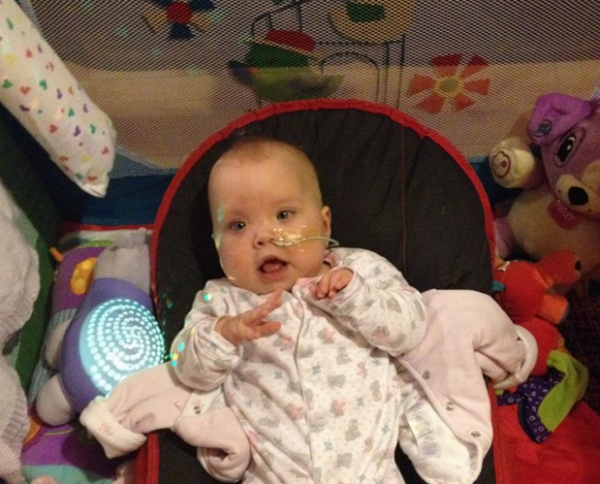 At just nine months old, Jessica McMahon overcame two potentially fatal heart conditions thanks to heart transplant in August last year.
After many serious health complications including cardiac arrest, Jessica, who was born with a suspected heart murmur, was put on life support in Crumlin Children's Hospital while waiting to hear about a donor.
Jessica went into multi-organ failure after many infections and survival looked like an improbability.
Her mother, Elaine, stayed at her bedside every day for the eight months she was in hospital.
When they received the miracle call that a donor heart had become available, baby Jessica was flown to Great Ormond Street Hospital in London for the life-saving procedure.
In November, she returned home to be with her mum and dad, Elaine and Stephen and her big brother, Daniel.
Talking to the The Irish Times, Elaine said: "When she came home she was so small and fragile like a newborn but quickly started to catch up on all the development stages other babies of her age would have gone through."
"She has had to learn to suck a bottle again as she was previously fed from a tube. Her progress has been amazing since she came home."
And they're starting to see Jessica's personality grow now also: "Her personality is now beginning to shine through and she is a really good baby."
"My whole family share in our love for her heart donor who we will never know. If the call hadn't come through for a donor heart she would not be with us here today. Jessica is a miracle."
Elaine began the Facebook page, Have a heart for Jessica, to raise funds for a heart transplant, and now uses it to spread awareness about organ donation.
To mark the beginning of Organ Donor Awareness Week (2nd - 9th April), Elaine posted a video to show Jessica's progress.
#OnesLEGACYisAnothersLIFE Today Organ Donation Awareness Week for 2016 begins. We have shared this video to show you all how much of a difference of receiving an organ can make to ones life. Please discuss organ donation with your loved ones and friends

Posted by Have A Heart For Jessica on Saturday, April 2, 2016
Organ Donor Awareness Week 2016 is organised by the Irish Kidney Association. Text "kidney" to 50300 and €2 will be donated to the IKA.
SHARE Jessica's amazing story.