Just in time for Valentine's Day 2023, Baileys Chocolates has launched a delicious new variant in its much-loved Strawberries and Cream range, blending the sumptuous taste of fresh strawberries and vanilla with the iconic taste of Baileys liqueur, encased in a stunning milk-chocolate truffle.
To celebrate Baileys Chocolates has teamed up with The Sugar Club in Dublin 2 to make Valentine's dates even sweeter. Guests at a special screening of the classic 'True Romance' movie on Tuesday, 14 February, at the iconic Lesson St venue, will each be treated to a delicious, complimentary box of Baileys Strawberries and Cream Truffles.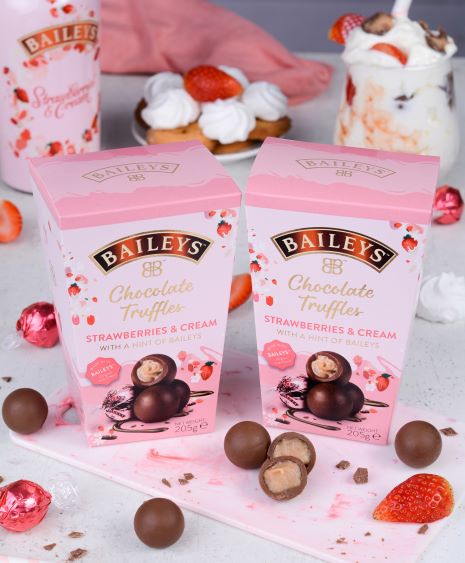 For those who prefer an alternative Valentine's night out, Baileys Chocolates are also on board for two other events at The Sugar Club; the Rocky Horror Show screening on Saturday, 11 February – a much-anticipated annual event at the club, which always attracts a full house or for those who prefer a more chill vibe, a performance by the hugely talented, Music Network on Wednesday, 15 February. Guests at both events will also be treated to complimentary Baileys Strawberries & Cream Truffles – what could be sweeter!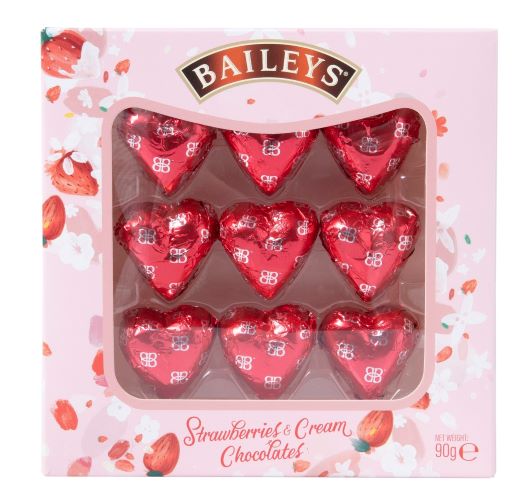 The new Baileys Strawberries & Cream Chocolate Truffles (205g, €7) join the irresistible Baileys Strawberries and Cream Chocolate Hearts (90g, €5) which are beautifully presented in an eye-catching pink box and the Baileys Strawberries and Cream Mini Delights pouch (102g, €3) which also always prove a big hit on Valentine's Day.
This newest addition from Baileys Chocolates, follows the hugely successful launch of the limited-edition Baileys Strawberries and Cream Liqueur, which hit shelves in 2019. Fans of the delicious beverage will be thrilled to see this sensational flavour combination re-appearing in another mouth-watering chocolate variety.
Baileys Chocolates, Brand Manager, Helen Lynch commented:
"Our chocolatiers in Navan have been busy experimenting with this glorious combination and we're delighted to introduce Baileys Strawberries and Cream Truffles in time for Valentine's Day. This flavour profile proved a big hit when we introduced the Strawberries and Cream Chocolate Hearts in 2019 and the feedback to this latest Truffle variety has been fantastic so far. We're delighted to be teaming up with The Sugar Club for this Valentine's festival of events and are looking forward to welcoming lots of new chocolate lovers to the Baileys Chocolate brand!"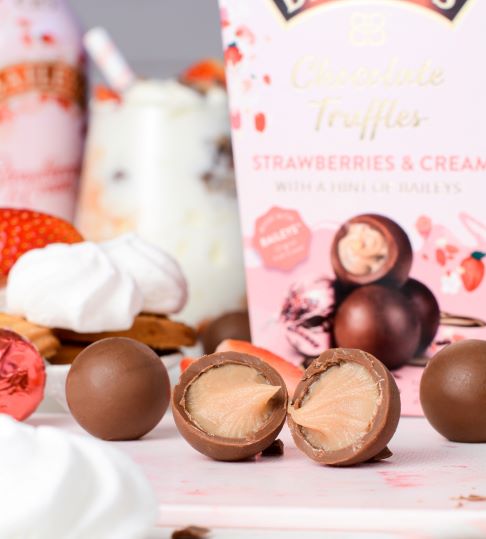 In addition to the new Baileys Strawberries and Cream Chocolates, fans of the wider Baileys Chocolate range can pick up their favourites online at Lir Chocolates, at retailers nationwide and at Dublin and Cork Airports, priced as follows:
Baileys Strawberries and Cream Truffles, 205g - €7
Baileys Strawberries and Cream Chocolate Hearts, 90g - €5
Baileys Strawberries and Cream Mini Delights, 102g - €3
Baileys Chocolate Collection, 227g – €14
Baileys Giftwrap Box 260g - €12
Baileys Chocolate Bombe Box (3 pack) - €6
Baileys Chocolate Moments, 108g - €7
Baileys Pouch Salted Caramel, 102g - €3
Baileys Pouch, 102g - €3
Baileys Salted Caramel Truffles Tube, 320g - €10
Baileys Chocolate Truffles Tube, 320g - €10
Baileys Chocolate Truffle Bar, 90g - €2.50