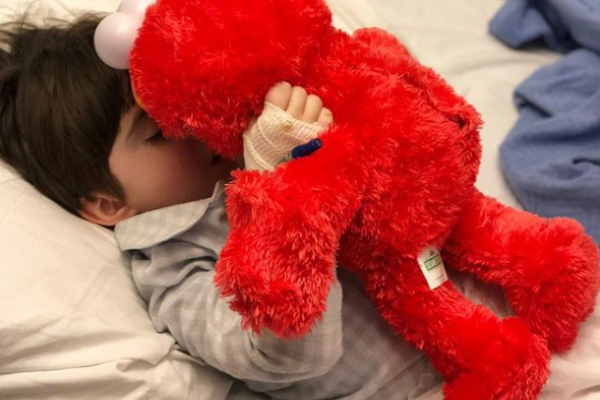 Almost every day, we hear particular stories of parenthood that move us to the very core.
Over the last 24 hours, Dublin-based mum, Yavanna Keogh, who runs popular beauty blog Makeupmonster, shared her own devastating news that has resonated and struck everyone that has learned of it. Taking to her Instagram account and blog, she explained that her adorable three-and-a-half-year-old Oscar has been diagnosed with an aggressive brain tumour. To add to the utter heartbreak of the initial news, the doctors have said that because this particular tumour is extremely rare in Ireland, there is no known cure.
"There were small signs that something was wrong in the months leading us to here, but they were vague and seemingly disconnected," she explained on her website, saying that her son had been ill on-and-off vomiting every so often for a few weeks until they realised something didn't add up with his symptoms. All at first, they thought to be separate incidents.
The family, Yavanna and her husband Lar, sought a second opinion from their family doctor. She gave us a referral letter for Temple Street and said to go in the following morning to ensure a consultant would be available if they deemed it necessary to give him a scan," Yavanna said, adding that the family continued to try to stay positive, even after little Oscar was admitted for an MRI.
"We stayed in hospital with Oscar, exhausted and terrified and utterly confused overnight while our parents filtered in and out, trying to stay strong and optimistic for us."
The news that Oscar's tumour - known as called DIPG (Diffuse Intrinsic Pontine Glioma) - is inoperable has obviously completely devastated the family.
"There is a less than 1% chance of survival and 90% of children diagnosed will die within 18 months. A biopsy has shown that Oscar's is the most aggressive type so his prognosis is not good. Experimental treatment isn't an option for Oscar. We were told by the expert's anything that had any real results would, of course, be offered to us but as of now, the only thing that works is radiation and only for a time."
But they have, even in the midst of their devastation and heartbreak, decided to try and raise awareness of the rare condition and began fundraising to give their beloved little son the best of everything they can.
''So we have started this GoFundMe page simply to give our son the time of his life for however long that is. Trips away and days out and ice creams and toys and anything else that will help bring a little magic and joy to him.
We will also be donating money from it to research and charities in Ireland. We aren't going to ask you to dig deep, if you have something to spare and want to give it we would be hugely grateful, but we would be just as grateful for your hopes and kind thoughts for Oscar. We have also started some social media pages for DIPG as it is incredibly rare and brutally underfunded. We hope it can be a resource to other families who have dealt with, are currently dealing with or unfortunately may meet this diagnosis in the future. Our eternal thanks go to the staff of Temple Street, Crumlin Hospital and St Luke's Oncology Hospital who have looked after Oscar and us so well."
The family also thanked the blogging community and everyone who has donated or shared their kind words in support of Oscar.
Oscar, Yavanna, Lar and all the family are in our thoughts and hearts as they go through this heart-wrenching situation.
Click here to view Oscar's GoFundMe page