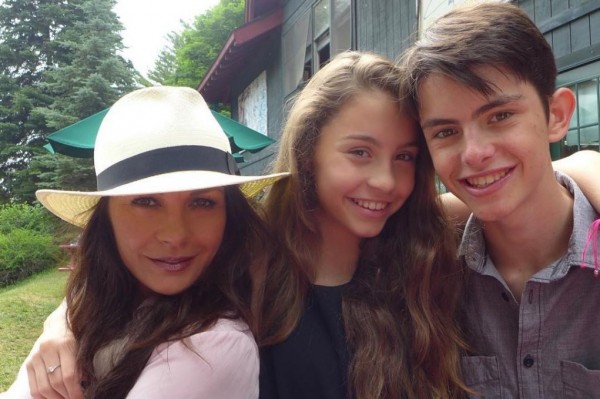 They may keep their personal life private, but it seems Catherine Zeta-Jones and Michael Douglas have been documenting their children's upbringing very closely down through the years!
The couple's son Dylan turned 17 yesterday, and the actress took to her social media channels to pay the most wonderful tribute to him.
The 47-year-old shared a montage video to the tune of Start Me Up by The Rolling Stones – and it is absolutely epic.
The video documents every year of Dylan's life, from adorable newborn to lively teen, and it's clear that the family have enjoyed some truly remarkable memories together.
Gushing over her 'sweetheart', Catherine wrote in the caption: "Don't 'start me up' on how much I love you.
"Dylan, you are truly a remarkable young man. You are the joy of my life. 17 years old today!"
Catherine, who also shares 14-year-old daughter Carys with husband Michael, was inundated with messages of love from her legion of Instagram fans – including a very special one from the birthday boy, himself!"
"Thank you, Mum. Love you with all my heart," wrote Dylan, to the delight of Catherine's followers.
It seems the family are in a great place right now, after a turbulent time in 2013, when Catherine and screen icon Michael took some time apart.
The stars, who have been married for 17 years, reunited shortly after, however. Wall Street star Michael later confirmed that he and Catherine are 'closer than ever' after their brief separation.
In an interview with the Mail, he said: "We had a little bump in the road. The problem in this business, is that everything is so public.
"I love Catherine as much, more than I ever have. And hopefully the feeling's mutual.
"We worked things out. If both people want to work something out and make it better, you can do it. You can't do it if it's just one person."
Catherine and Michael met in 1998, at the Deauville Film Festival, with the actor famously telling her, "I want to father your children".
They went on to tie the knot two years later, just after welcoming eldest child Dylan. Carys was then born in 2003.