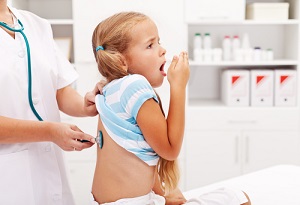 A cough is a body's reflex to clear its airways of dust, irritants or mucus. The most common cause of a cough is a cold, and unfortunately, it is known as the common cold as it occurs so often! Coughing can disrupt sleep and cause irritation and distress to babies and their parents. There are several different types of cough which I will explain now, so that you know the best way to act in each case:
A chesty/ productive cough: This is a cough where mucus is present. A post-nasal drip often is present at the same time, causing mucus to travel from the nasal passageways and sinuses down into the chest. A post-nasal drip is often the result of a cold, sinus infection or allergies. The best ways to treat congestion are outlined in a different blog of mine which can be found here: http://wonderbaba.ie/2014/12/16/nasal-congestion/. Also, ensure your baby is taking plenty of fluids. If a fever is present and the baby is lethargic or out of sorts, then bring them to a doctor to rule out an infection. Once your baby is over two years, they will be able to take Exputex or Viscolex cough bottles, which are great for breaking up mucus and making the cough easier to clear.
A dry/ irritating cough: This is a cough without the presence of mucus. It is often due to infection, an allergen or some form of irritant such as dust, pollen, or smoke. It is good to treat it with nasal saline, to remove any irritants. You can also treat this cough with the following cough bottles which will be described in more detail later – Pharmony throat syrup (4+ months), Nelson's Sootha (1+ years), glycerine lemon and honey (1+ years).
A barking cough: This type of cough indicates inflamed or constricted airways. If it is as a result of croup it will generally get worse at night. A trip to the doctor is often required in this case, but it's worth using a Vicks' warm steam vaporiser in the bedroom overnight and, if a bad bout of coughing occurs, then carry your baby outdoors into cool fresh air which often reduces the coughing episode. If the cough persists, or your baby shows any signs of having difficulty breathing, then don't hesitate in bringing them to the doctor.
A wheezy cough: Wheeze on breathing can indicate asthma or bronchiolitis, which is an infection of the airways within the lungs – a doctor's visit is required.
A whooping cough: A cough that is followed by a whooping cough is caused by a bacterial infection called pertussis. The sound is as a result of the baby taking deep breaths after coughing all of the air in their lungs out. Contact your doctor if this occurs, as medical treatment is required.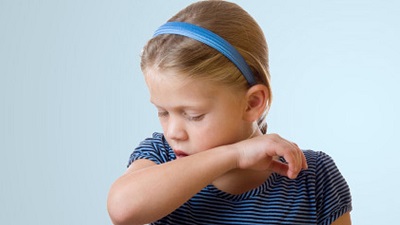 When caring for a baby with a cough, you should visit the doctor if any of the following occur with your baby:
Difficulty breathing

Irregular breathing

Blue tone to the lips or face

A high fever over 39 degrees Celsius

Babies younger than three months coughing regularly for more than a few hours

Coughing up blood

Whooping sound

Lethargic or out of sorts

Signs of dehydration such as drowsiness
Cough bottles which are suitable for young children which are licensed for use in Ireland are:
Nelsons Sootha – This is a 6c homeopathic bryonia mixture which contains purified honey and zesty lemon. It is free from colourings, flavourings and alcohol. As it contains honey, it is only suitable from one year of age. It can soothe sore throats and reduce irritation, which can help reduce a dry or irritating cough. Lemon is also useful for breaking down mucus, so I consider this cough bottle a bit of an all-rounder.
Glycerine, lemon and honey – This has a similar mode of action to Nelsons Sootha, but without the bryonia. The honey and glycerine soothe sore and irritated throats, which can reduce the severity of an irritating cough. Lemon will help with the breakdown of mucus. It is suitable from one year.
Pharmony throat syrup – This product is great as it does not contain honey, which means it is suitable for use from four months of age. It contains lemon and aniseed, which soothe the baby's throat and reduces dryness and irritation in the throat, which can be the cause of a cough.
I hope you find this information helpful and, as always, don't hesitate to contact me on the
WonderBaba Facebook
page with any questions, or for one-to-one advice for your little one! You can also consult with me in person at Milltown totalhealth Pharmacy in Dublin 6.