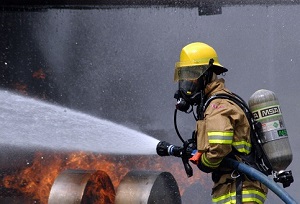 An incredibly brave six-year-old boy has been left with third-degree burns, endured as he ran into his burning house to rescue his grandfather.
Little Haiwen Tao, from the Heilongjiang province of north-eastern China, was coming home from school when he saw his house going up in flames.
In a heroic move, the child dropped his schoolbag and ran inside to find his 60-year-old grandfather, Shen Sung, collapsed on the kitchen floor.
Unable to carry his grandfather to safety, the courageous little boy ran outside to where firemen were attempting to tackle the blaze.
Both Shen and little Haiwen were rushed to hospital, but sadly the grandfather died from his injuries. Haiwen has been left with third-degree burns over 25 percent of his body and is currently recovering in a special burns clinic.
Haiwen's devastated mum said: "Haiwen adored his granddad. When he saw the house on fire he reacted without thinking. He is in a lot of pain but he says he won't cry because his granddad always told him that big boys don't cry, and he doesn't want to disappoint him."
What a tragic story, and one that comes just a day after the report on courageous dad Mikhail Abrosimov, who heroically saved his son from a blaze in their apartment.