A father has come in for criticism after posting 'inappropriate' comments about his daughter's chest on her Facebook page.
The social media thread began with a statement posted by daughter Shannon, who shared a photo quote questioning why boys finds breasts attractive.
The quote read: "What do boys even find attractive about boobs? They are literally a ball of fat on a girl's chest. Like, if you can love me for the fat on my chest, why can't you love me for the fat on my stomach?"
The girl's father then replied underneath: "Well your daddy still loves you no matter if you're fat or not. And by the way, your boobs are great."
While it appears that this dad may have just been attempting to make his daughter feel better about herself, he has been criticised by social media users for the comment.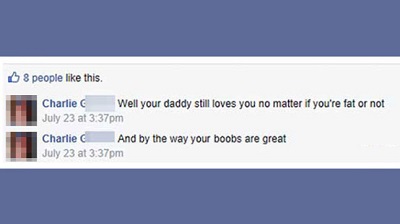 A number of Facebook users who saw the comment have branded it as highly inappropriate, with some suggesting that it could be read in a sinister tone.
What are your thoughts?