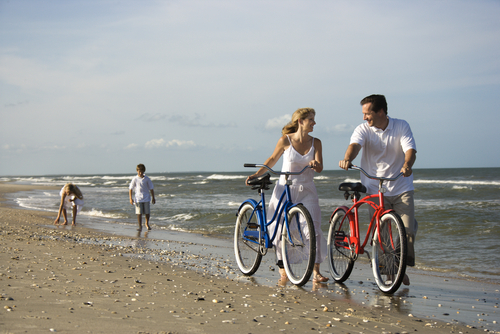 While it is important you take time out to spend with just you and your other half, we all know just how hard it is to get a babysitter, and just how expensive getting one can be.
But that doesn't mean you have to put your dating days behind you, or that you are stuck indoors for the foreseeable future.
While probably not as romantic as you'd like, you can bring your kids along on your dates and still have a wonderful time.
1. Go for a walk
Pop your kids on their bikes or in the buggy and head to the local beach or forest. You can walk hand-in-hand with your significant other while your little one sleeps (hopefully!) or has fun up ahead.
2. Head to the park
Grab a coffee each and head to the local playground. You and your partner can catch up sitting on the bench while the kids run around having fun. Think of it like an outdoor café (although you will no doubt have to push the kids a few times on the swings!)
3. Go to the movies
Going to the cinema is the classic date and one that doesn't have to change just because the kids are there. Share a box of popcorn or a drink and sit beside each other - not at either end of the kids. It's like you're back in the early days... kind of!
4. Go to an arcade
Get rid of all those coins that are piling up in your home by heading to the local arcade. Get silly with the kids and your other half and you'll definitely feel the better for it!
5. Go on a road trip
Bundle the kids in the car and head off on a road trip. While not quite like the ones you went on during your child-free days, the kids might fall asleep and you can relax and have chats with each other like you used to.