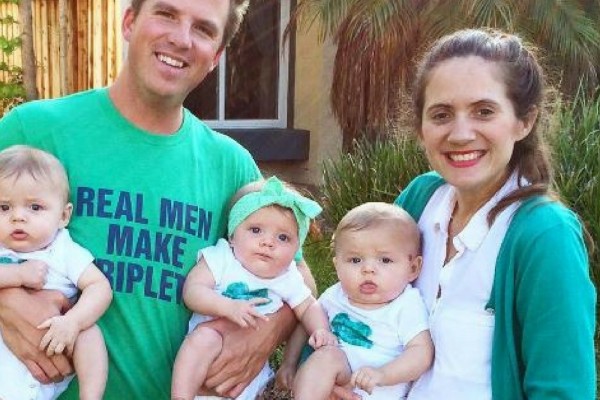 A mum has shared her incredibly emotional story of battling infertility online.
Desiree Fortin and her husband Ryan were keen to have a baby but their journey wasn't as straightforward as they had initially hoped.
Desiree finally conceived triplets through IVF and is now a proud mum to three beautiful children, two boys and a girl.
But before this, she went through a terrible ordeal which she documents in an open letter addressing her infertility on her parenting blog.
Desiree wrote: "Dear Infertility, I hated you."
"You steal dreams. You break hearts. You bring grief. You consume lives. You are the reason I couldn't get pregnant on my own.
"You drowned my heart in deep misery from the inability to become a mother how most women do. You told me that my body wasn't good enough. You may have been a huge part of my story, but you never defined me. And on this day, two years ago, I kicked your ass."
Desiree goes on to describe her IVF treatment and how she managed to stay strong, despite the difficult circumstances.
Before becoming pregnant, there were many low moments, particularly when friends got pregnant.
"Because of you I laid on my bathroom floor in complete emptiness after countless negative pregnancy tests time and time again I had to endure shots, bruises, and all kinds of meds because when you are infertile, that is what you are in for."
The financial, physical and emotional costs placed an enormous burden on Desiree and her husband.
"You are expensive and exhausting physically, emotionally, and mentally. Infertility, you drowned my heart in disappointment and agony. And truthfully, it was pretty painful every time I heard the words "I'm pregnant" from someone other than myself."
However, Desiree's perseverance was eventually rewarded in an incredible way.
One of the treatments finally resulted in two healthy embryos which were successfully implanted into Desiree's womb and she became pregnant.
Desiree and Ryan were excited at the prospect of becoming parents to either twins or a single baby. But at their first ultrasound, something even more incredible happened.
After confirming that there were two heartbeats, the doctor told them that she could see a THIRD heartbeat. One of the embryos had split and the couple were having triplets.
Desiree's much longed for babies, Charlize, Sawyer and Jax arrived healthy and well and now she no longer hates her infertility.
She explains why in the touching letter: "However, infertility, it is because of you that I get to be a Mom to Charlize, Sawyer, and Jax.
"This love that I get to experience with them is absolutely undeniable. It is the greatest feeling in the world and if you weren't part of my story, I would be missing out on a truly honourable role as their Mommy."
She now blogs about life with her babies and her infertility story on ourjourneytoparenthoodblog.com.