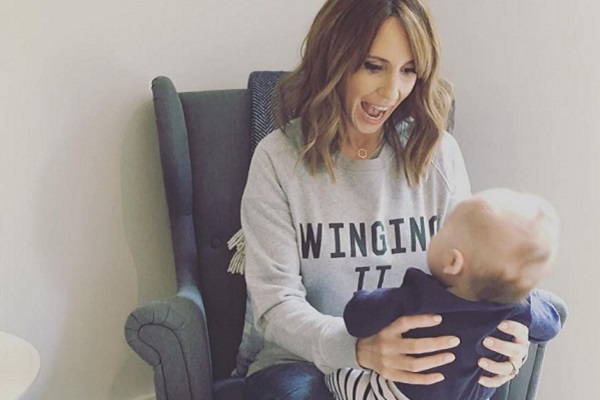 There are many monumental experiences mums will always remember; your baby's first word, their first holiday, their first day at school, the list is never-ending.
Alex Jones has shared the news that her son has reached one very special milestone. The proud mum took to Instagram to reveal the exciting news to her 85,000 fans.
The One Show presenter posted a picture of her darling son Teddy, the caption read, "Finding it hard to leave this little bundle of fun this morning."
The mum wanted to stay with her little boy all morning because he has started to crawl. Alex wrote, "He did his first proper crawl!!!!!!!! Delighted, proud and paranoid that we need to lock everything away all at once."
The mum admitted that she was worried Teddy would knock down their belongings as he pottered around the floor.
The new mum was so excited about this special moment she shared with Teddy, who was born on January 22, 2017.
The Welsh star is very popular with mum's online due to her honesty about motherhood. Many mums flooded the sweet post with messages of support.
One shared, "What joy to watch little Ted developing; don't worry about working: you'll grow together as a family. Take care."
Another mum commented, "Oh wow! He is so much bigger! How time flies. Cherish every moment at this age as they grow those moments become far and in-between."
"Time to grow eyes in the back of your head! Let the fun and games begin... thanks for sharing Alex," said another user.
Mums recently praised Alex for her refreshing views on her post-baby body. The mum admitted that there were more important things to be worrying about than her figure.
Shortly after giving birth, Alex admitted that she was overwhelmed by how different her body was, "It was really hard trying on one thing after the other and nothing looking quite the same," she told Ok! magazine.
However, the mum realised that the label on her jeans did not matter. We all have our flaws and it's important to embrace them, "In a lot of those celebrity mum photos, there's a lot of Spanx and dark colours. Underneath we're all looking a bit like a melted ice cream!"
Alex is focusing on her family, rather than fretting about her appearance. She will certainly have her hands full now that little Teddy has started to crawl.