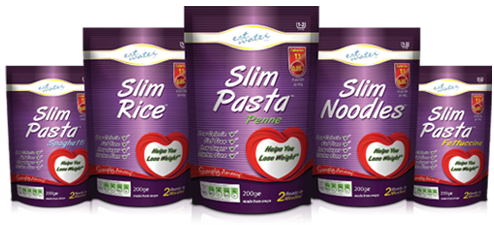 Is there anything as comforting as a delicious bowl of pasta for lunch or dinner? However, these carb filled meal options usually result in us feeling guilty, bloated and sluggish. But what if you could enjoy a much needed carb fix and feel great at the same time? Well now you can enjoy the foods you love all thanks to the brand new super food range from Eat Water.
Eat Water has an incredible range of Slim Pasta, Rice and Noodles (all €2.99) which are vegan, suitable for coeliacs, sugar free, gluten free, carb free and virtually calorie free.
Each product is made of 100% natural ingredients; water and a vegetable fibre called Moyu (also known as Konjac), which has been consumed in Asia for many centuries for its health properties.
Konjac is derived from a tubular underground plant which is grown in Japan, China, Korea and Southeast Asia and is used to make the fibrous substance which can then be turned into the Eat Water range. This fibrous substance has the highest affinity to water and keeps the water in the shape of pasta with the help of firming agent calcium hydroxide.
The complete Eat Water range is so easy to cook and the perfect healthy fast food to create tempting noodle and pasta dishes, add to soups or stews or make the perfect gluten free curry and rice dish. The Eat Water range is incredibly handy to have if you're in a hurry but more than that it's a deliciously healthy alternative to calorie laden carbohydrates. The range is ideal for everyone and is suitable for even the most sensitive of stomachs. It contains no wheat, gluten, dairy, egg, corn, soya or nuts.
It couldn't be easier to prepare, all you have to do is rinse under warm water 2 or 3 times and then pop it in the microwave, pan or wok to create a quick and nutritious meal.
Here at MummyPages we tried this wonder product and while we didn't notice any difference in taste from our favourite pasta brand and we felt just as satisfied after the meal, we did notice that we didn't feel sluggish and we suspect our jeans may be a tiny bit roomier!
This is definitely one product we will be keeping the MummyPages kitchen cupboards well stocked with.
Eat Water Slim Pasta, Rice and Noodles 2.99 are available from Holland & Barrett's stores, Superquinn and pharmacies nationwide.