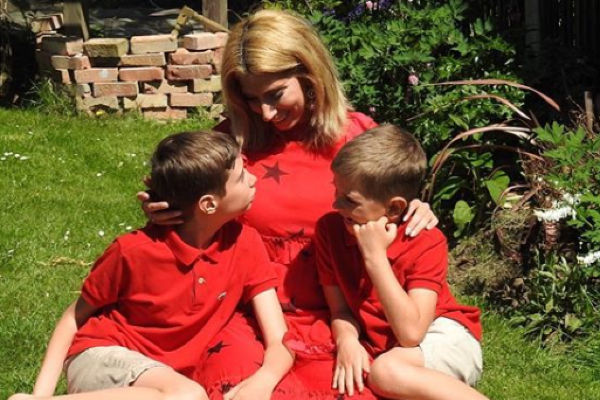 You know your children are firmly out of the baby or toddler stage when they start to refuse your photograph requests.
As we struggle to capture those precious memories as time flies along, getting your kids into the shot can often come with bribery. (Chocolate is generally my secret weapon.)
Stacey Solomon seems to be having this very relatable problem with her two boys, 10-year-old Zachery and Leighton, who is six.
The Loose Women presenter posted a picture-perfect family snap of herself and the boys in front of a sunset.
However, the mum-of-two was quick to explain in the caption that looks are deceiving.
"Sunsets and silliness. When you look pretty calm and happy, but the truth is [you] had to grab your babies and put them into an armlock to get this picture.
"It's one of about a thousand! is anyone else' kids totally OVER photos? I just wanted a sunset holiday memory picture and it became a WWE sequence to rub salt into the wound I just looked at my sisters sunset pic with her two daughters and it's AMAZING," she wrote.
Is it really just a boy thing? It seems so.
A lot of her followers who are mums to boys have chimed in.
One mum said: "Must be boys @staceysolomon mine are exactly the same...whenever I do get them to finally pose it's always one of those "this would be a lovely picture if..."
"Boys aren't into selfies like girls so your sister would've got it easy! I have a daughter who loves selfies but my 12 year old "Godphew" has to be bribed! A kiss cost me a doughnut at the weekend!" commented another.
"My 11 year old son is over photos with mummy and refuses kisses anymore...where did my baby go?!? Mad how time flies, enjoy every moment with them," said a fan.
The 28-year-old is always refreshingly natural in her holiday snaps.
Stacey is an advocate of embracing her body and letting it shine on her social media.
Filters and photoshop are strictly banned from the presenter's bikini shots.

It's not hard to see why her followers adore her for being so real.
We love her honesty and straight-talk when it comes to all aspects of mum-life.
But do you agree with Stacey that getting your boys into selfies is more like a wrestling match?