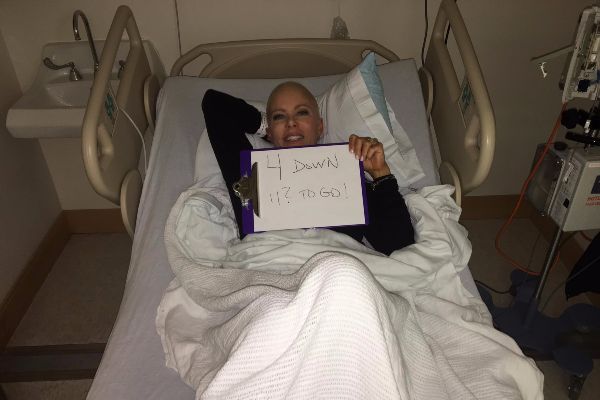 Kelly Frey is a news anchor from the US who has been publicly battling breast cancer, with an inspiring and positive attitude.
The Pittsburgh native recently shared an emotional message on Facebook, updating her friends and family (and fas) on her treatment: "Last Thursday, I received somewhat devastating news during my surgical oncologist's appointment.
"There's no easy way to say it… the tumour in my right breast isn't shrinking."
Kelly continued, explaining that despite undergoing "the most powerful chemotherapy there is" and taking daily supplements, her tumour wasn't shrinking.
"I was also really mad at myself for being so naive. Naive to assume that just because you are getting drugs that make you go bald, throw up, have dizziness and light, smell, sound sensitivity and headaches for days...that the drugs are also killing the cancer."
The heartfelt post goes from being emotional to uplifting, when Kelly starts to talk about hair loss, and how she is "loving not having hair," because she doesn't have to worry about shaving.
However, the news anchor expressed her fear regarding losing her eyelashes, "still scared at the prospect of having to glue on fake lashes for work. I might seal my eye shut or have those things falling off on air!"
With that, Kelly spoke about how she treated herself to a set of semi-permanent eyelashes, because "it's the little things that boost your spirits."
She mentioned how something so small, like false lashes, can really lift a person's spirits: "And for now in the wake of some unexpected news last week, if lush lashes in the midst of chemo do the trick? So be it!
"The fight is still on!"
"I'm re-energized and ready! And to everyone who has been affected by cancer, I encourage you too, to soldier on. We got this."
Sending support your way Kelly; get well soon!