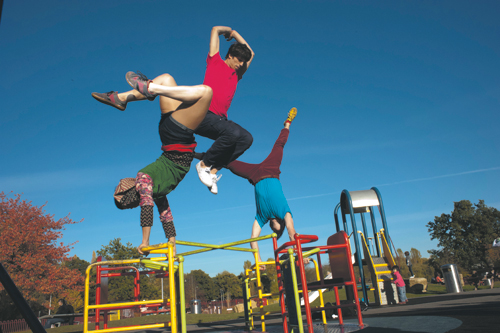 Dublin Dance Festival will host Family Season for the 2013 festivities which will take place in venues across the city from 14th-26th May.
Playgrounds will come alive with high energy performances of Spill, where street gymnastics will be combined with quirky dance. At The Ark, Scottish Dance Theatre's 'What on Earth!?', a hilarious show of dance and animation, will offer young audiences the chance to enjoy a pre-show pyjama party. For the very young family members, DDF is offering 'The Light Garden' an interactive light and video installation for toddler, who will be given little torches and then guided by a dancing bug.
"Nothing beats the delight on a child's face when they've been wowed by a dance performance – it's magical to see them light up!" says Julia Carruthers, Director of DDF. "These events offer a mix of thrills, laughs and gentle discovery of what movement and dance can be – indoors and out. And we think parents will be captivated too!" she continues.
Dublin Dance Festival wants to give young audiences an inspirational festival that offers the best of contemporary choreography, supports artists and develops audiences. There is a huge programme for 2013 that will give families lots of fun events to chose from.
To find out more about the programme from 2013, or to book tickets for any events, visit
www.dublindancefestival.ie
or phone 01 672 8815 from Monday to Friday 11am – 6pm.
April 2013