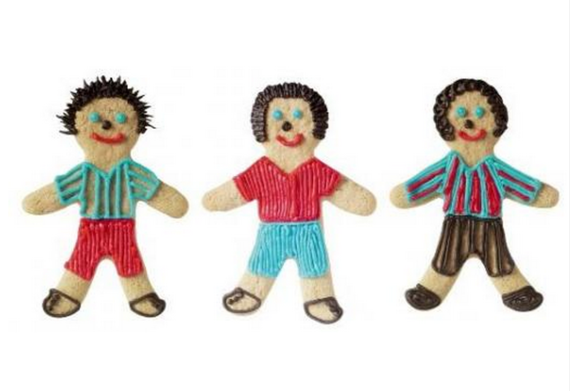 They say the best way to a man's heart is through his stomach, so this Father's Day, instead of giving expensive gifts, tr
eat them to these tasty homemade cookies. B
aking is also a great way to spend an afternoon with the kids, and these are so easy that you'll no doubt be whipping a batch up every
You are sure to have a lot of these ingredients stashed in your cupboards so have a look before you head to the shops!
Ginger Footballers
Makes: 12
Ingredients:
75g dark brown sugar, sieved

3 tbsp golden syrup

1 level tbsp cinnamon or ground mixed spice

1 level tbsp ginger

95g butter or margarine

1⁄2 level tsp Dr. Oetker Bicarbonate of Soda

225g plain flour

Dr. Oetker Writing Icing or Designer Icing to decorate

Footballer-shaped cutters (optional)
Method:
1. Preheat oven to 180°C/ 350°F / Gas Mark 4 and lightly grease a baking tray.
2. Put sugar, syrup, spices and 1 tbsp water together in a large saucepan and bring to the boil, stirring all the time.
3. Remove saucepan from the heat. Cut butter (or margarine) into pieces and add to the saucepan, along with the Bicarbonate of Soda.
4. Gradually mix in the flour until you have a smooth dough. Set aside in a cool place and leave for 30 minutes.
5. Light dust your work surface with flour and roll out the dough to approx. 3mm thick. Using a cutter or a knife, cut out the shape of the gingerbread footballers. Place on the baking tray.
6. Bake in the oven for 10 – 15 minutes or until biscuits are firm and golden.
7. Leave to cool on a wire rack and then decorate using Writing Icing or Designer Icing depending on your Dad's team colours.