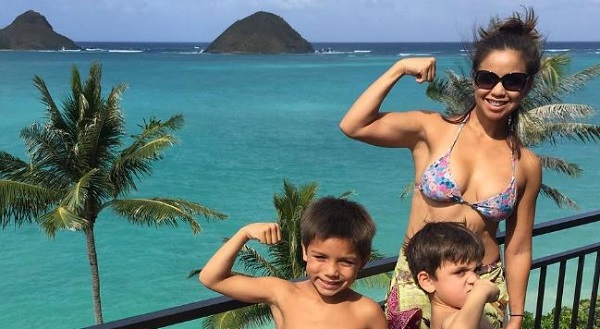 It's likely that you have heard of Maria Kang, the mum-of-three and fitness blogger who caused controversy with her 'What's Your Excuse?' attitude to exercise.
Mums all over the world were left angry and disillusioned when Maria shared a photo of herself looking toned and fit, standing behind her three young children, claiming that she ALWAYS finds the time to work out.
At the time, she claimed that she knew all about what it was like to lack time and energy as a mum, but she 'brazenly' maintained that if she could find the time to exercise, everyone else should be able to.
Clearly, Maria is going through a difficult time, and her Insta followers are pleased to see she has decided to eat her words with her latest photo shoot.
Posting a photo of herself wearing a bikini, Maria revealed that she ditched her pre-photo shoot ritual in the run-up to these photos being taken – that meant no dieting 12 weeks prior to the shoot, and no extra beauty food or beauty rituals.
"In the last several months I've been over-travelling, over-stressed and over 'it' as I'm undergoing many life challenges and changes," she explained.
"I shot this in the afternoon after eating a donut...I didn't exercise for four days prior and was tired after a day working and being with my kids. AND I am 10lbs up since I shot that 'What's Your Excuse?' photo," she added.
Apparently, Maria has had a total change in attitude towards fitness and exercise, and she is embracing a less regimented attitude.
"Here I am. This is a raw photo with absolutely no re-touching, no preparation and no shame. I'm finding my beauty again, I'm discovering my strength again, and I'm re-learning what it means to be brave, bold and unapologetic about where I am in my life's journey," she wrote.
While exercise is important for healthy minds and bodies, it's vital that you take it at your own pace. We're glad that Maria is taking a more relaxed approach.
SHARE with a fellow mum who will appreciate Maria's turn-around.