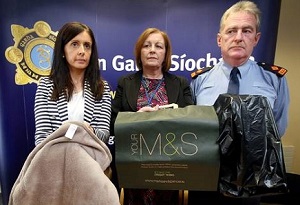 With a fresh appeal made today in an effort to find the mother of baby 'Maria', the Gardaí were keen to emphasise that the case is not being treated as a criminal investigation.
While the authorities still have no known leads on the identity of the parents of the newborn, who was discovered in South Dublin last Friday evening, they confirmed that the mother "has nothing to fear" by coming forward.
Speaking at a press conference in Clondalkin this afternoon, Superintendent Brendan Connolly said: "This is not a criminal investigation in the strictest sense of our investigation. We are concerned first and last with the welfare of this mother. The mother should have absolutely no fear of coming to talk to us."
The baby, who was found wrapped in a blanket by a member of the public, is currently being treated at the Coombe Hospital, and authorities confirmed today that she is 'doing well'.
Gardaí are continuing with their inquiries, while the Child and Family Agency, Tusla, have been contacting hospitals in a bid to find out information about the child's mother.