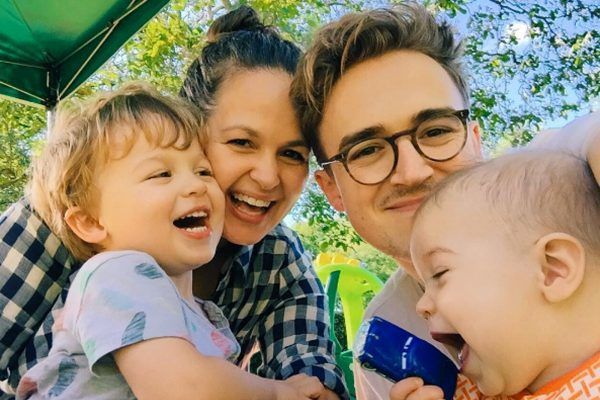 Giovanna Fletcher still has four months until her due date for baby number three, so she understandably had a 'minor panic' this morning when she thought her water had broken.
The expectant mum woke up with a 'big wet patch' underneath her, so obviously thought that the little one was possibly on its way.
That would be 'extremely early', she said, considering that she and husband Tom Fletcher of McFly fame aren't expecting their new addition until September.
However, it turns out that what ACTUALLY happened can be categorised as just another day in the saga that is parenthood.
Her two-year-old son Buddy had peed on her, which Giovanna had mistaken for her water breaking!
On top of that, four-year-old Buzz was feeling poorly. The 33-year-old aptly deemed it a 'hairy night'.
Thankfully, though, everything actually seems to be going quite well pregnancy-wise for the blogger. The couple, who will be married six years tomorrow, also revealed that they will not be finding out their baby's gender ahead of time.
"We've been to see the midwives, chatted to the lovely lady who helped bring Buddy into the world (and insisted I write a book - I did), and then had a scan," Giovanna shared on Insta, "Nut is doing very well in there! And no, we aren't finding out whether it's a girl or a boy. It'll be a lovely surprise either way!"
Tom also chimed in on the social media platform, writing, "Baby 3 is looking amazing. All good in baby town."
Giovanna's story prompted other mums and dads to share their own parenting tales.
"When I was 10 weeks pregnant, our waterbed sprung a leak and I've never seen my husband leap out of bed and jump for his phone as fast as he did that day. He thought my waters had broken," one woman wrote.
"Are you even a parent if you haven't been peed on?" a commenter joked.
"I remember thinking my waters had broken - I'd not put the hot water bottle top on properly and woke up to a very wet, warm bed!" another said.
Have you ever had a similar scare? Let us know!