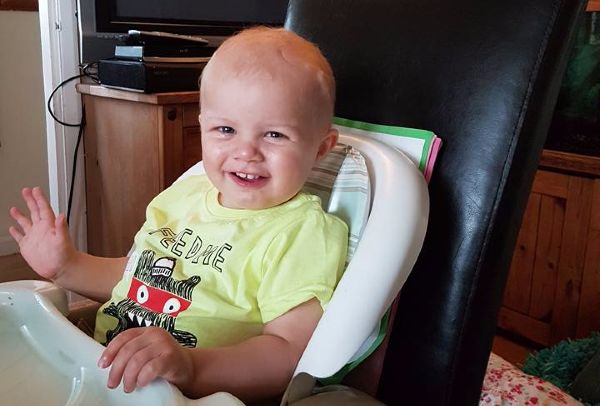 Two-year-old Jay Goodman lost his ability to speak as a result of a cancerous brain tumour, but recently uttered words thanks to Peppa Pig.
Jay, who was diagnosed when he was just 16-months-old, struggled to make any sort of sound at all, even when crying, due to the large growth that was pressing on certain sections of his brain.
His parents, Mark and Karen, feared he would never speak - but Peppa Pig has officially halted their concerns.
Recently, Jay and his parents went to visit a life-size Peppa Pig, and the tot was so overwhelmed with excitement that he blurted out the word "Peppa!"
Naturally, his family were absolutely overjoyed, with Jay's Godmother telling The Daily Mail that: "When I walked out with Peppa and Jay saw us he just blurted out clear as day, 'Peppa!' It was very emotional. I looked over at his dad and he was just in disbelief."
Jay's dad, Mark, also spoke about his hope for his young son, following the run-in with the famous pig: "With his tumour he lost the ability to swallow which really affected his speech. He couldn't even make a sound when he cried.
"But the way he shouted 'Peppa' was clear and loud. It has given us all hope for Jay."
Apparently little Jay has been making great progress since meeting Peppa, "He's now started to use his speech more again - saying Mum, Dad and calling the dogs."
Jay was diagnosed when he was only 16-months-old, when his mum brought him to hospital because she noticed one of his eye's was drooping.
Doctors at Addenbrooke's Hospital, in Cambridge, found a two-inch cancerous tumour on Jay's brain and the tot rushed into theatre for an 11-hour operation to remove it.
Jay has also undergone seven rounds of chemotherapy since his surgery.
The illness had a serious effect on Jay's ability to speak and swallow, resulting in tube feeding and an inability to make sounds.
The gorgeous toddler met Peppa Pig at a fundraising day in his honour recently, as it is his favourite show.
Jenny, Jay's Godmother, said: "Jay loves Peppa Pig, he giggles while watching it and was so excited to see Peppa. He was being carried by his dad as he's not fully walking yet, so he was at Peppa's eye level."
What a remarkable little lad. We are wishing him a speedy recovery!