Cadbury Egg 'n' Spoon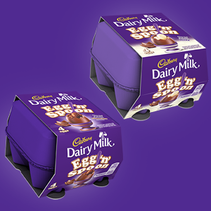 Join this group
Cadbury Dairy Milk Egg 'n' Spoon brings joy to families during the Easter season, helping to make family time even more fun.
Do you enjoy giving your little one a special treat every now and again? We have the perfect thing - that is delicious and fun for both parent and child.
Cadbury Dairy Milk Egg 'n' Spoon are f
our individually wrapped chocolate egg shells, filled with a light and fluffy chocolate mousse. Spoons are provided in the egg carton to scoop out the mousse.
The Egg 'n' Spoon is available in two tasty flavours – milky mousse and chocolate mousse.
The eggs can be cracked open like a real boiled egg, and the yummy mousse can be spooned out.
Then once you've eaten all the mousse, enjoy the tasty chocolate shell.
We are looking for 100 mums who would like to try Cadbury Dairy Milk Egg 'n' Spoon, both milky mousse and chocolate mousse. To be in with a chance of participating, please join the group and leave a comment. In the event that we are oversubscribed., we will make our selection at random from qualifying entries.
Recruitment for this group is now closed.

If you would like early notification of new group trials, please visit this page and join the group where you will get early email notification once new groups are live.