Mum's Say trial for Dettol Power and Pure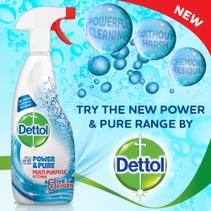 Join this group
Dettol create products to help mums protect their family from harmful germs that can cause illness and to keep your home clean and fresh. Dettol has launched a new range of products which make cleaning quick and simple for us busy mums.
Dettol 'Power and Pure' Multi-Purpose Kitchen spray and wipes provide powerful cleaning without harsh chemical residue. Both the spray and wipes are ideal for taking on common kitchen cleaning tasks such as tough grease. Its Active Oxygen ingredient breaks down to just water and oxygen so there's no need to rinse afterwards.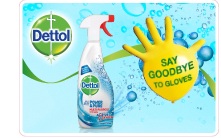 Dettol 'Power and Pure' Bathroom spray and wipes work just like the Kitchen Multi-Purpose products as they also contain the Active Oxygen ingredient so it saves time for mums when cleaning the bathroom. It tackles tough soap scum as well as the leading cleaner with bleach.
The other good thing about both products is that they kill 99.9% of bacteria so the family can live in a healthy environment.
We are looking for 50 mums to test out Dettol 'Power and Pure' products as part of our Mum's Say trial. If you would like to take part in this Mum's Say trial, simply join this group and leave a comment below.
IMPORTANT NOTE
to group joiners: any members without their full address details in their MummyPages profiles will be removed from the group. Please check/update your details
HERE
as soon as you can!
Recruitment for this group is now closed.
If you would like early notification of new group trials, please visit this page and join the group where you will get early email notification once new groups are live.