New Mums Say Group: Janet's Country Fayre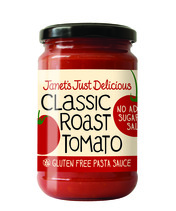 Join this group
Janet's Country Fayre is an artisan company producing traditional sauces with a contemporary twist. The range includes Chutneys, Relishes, Cooking Sauces and Pestos. Established in 2007, Janet's Country Fayre is situated in the foothill of the Wicklow Mountains in Kilcoole, Co Wicklow – "The Garden County of Ireland".
Janet Drew has over 20 years experience in creating recipes and is affectionately known in the trade as the "Queen of the Chutney Kitchen"! Only the very best quality of ingredients go into producing the Janet's Country Fayre & Janet's Just Delicious Ranges. We like to say that we've home made it for you like you might do yourself – if you had the time!
With locally sourced and produced seasonal ingredients, all the products are created using no additives, preservatives or artificial colours. The sauces and chutneys are gluten free, suitable for vegetarians and virtually fat free to boot.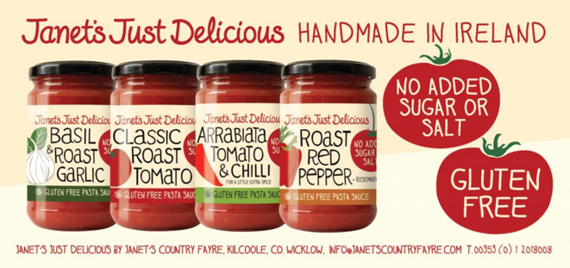 The Janet's Just Delicious range of tomato sauces includes:
Classic Roast Tomato
Arrabiata Tomato & Chilli
Roast Basil & Garlic
Roast Red Pepper & Rosemary
Roast Lemon & Thyme
For the Just Delicious sauces - there's no added salt and no added sugar, with only carrot puree used to add sweetness. And they "blitz" all the onion which makes for a great texture and as an added bonus – the Juniors can't complain about the onions!
We're looking for five mums to test Janet's Just Delicious Pasta & Pizza Sauces - if you'd like to take part, just join the group and tell us about who's in your house and what age group. If we are oversubcribed for this group, particpants will be selected at random.