New Mums Say: Pestle & Mortar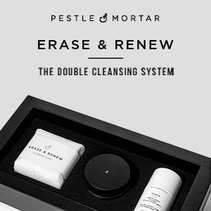 Join this group
As a busy mother of five, Sonia Deasy needed a simple, effective skincare routine she could count on. And she wasn't alone. While working alongside her husband, acclaimed international photographer Padraic Deasy, she saw firsthand how dry, dull and patchy his subjects' skin looked up close. She knew there had to be a better solution. So she began to research one herself, working closely with her sister – who just so happened to hold a degree in biochemistry.
Together they began to develop a formula that followed Sonia's own less-is-more approach to beauty. Always in favor of a natural look over layers of makeup, Sonia was determined to create a line of no-fuss skincare – free of harsh chemicals and worrisome ingredients – that left women looking and feeling their best.
Double cleansing is simply cleansing your skin twice. The Double Cleanse System is made up of 3 components. Step one of the cleanse is Erase, a makeup removing balm, followed by step two Renew, an illuminating lightweight gel cleanser. The final component of The Double Cleansing System is the double cleanse facial cloth.
We are looking for 20 mums to trial the Erase and Renew- The double cleansing system . To be in with a chance of participating, please join the group, leave a comment to register your interest. In the event that we are oversubscribed, we will make our selection at random from qualifying entries.
Recruitment for this group is now closed.