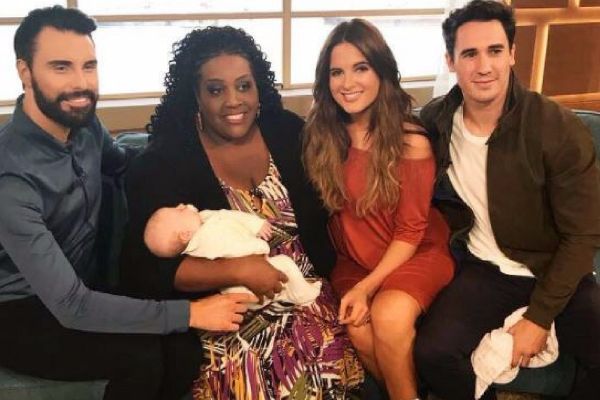 New mum Binky Felstead received harsh criticism for how she held daughter India on a recent TV appearance.
Binky appeared on This Morning with the little girl and her partner JP to discuss her new spinoff reality show and life as a mum.
As she discussed her labour and plans for more kids, some viewers became concerned about how she was holding baby India's head.
One person questioned: "Was I the only one who was worried about the baby's head because it wasn't being held properly? #thismorning"
Someone else commented: "Omg does Binky know how to hold a baby? #ThisMorning"
A third person wrote: " I CAN'T WATCH THIS, WHY CAN'T SHE HOLD HER PROPERLY?!? #ThisMorning"
Omg does Binky know how to hold a baby #ThisMorning

— Erryn (@errynerrynerryn) July 28, 2017
With yet another asking: "Has the baby got whiplash yet? #ThisMorning"
During the programme, Binky revealed that her labour had only been six hours long and she is already thinking about having another child with JP.
Chatting to Rylan Clarke and Alison Hammond she revealed: "I'm thinking two and a half years".
The reality TV star also said she was "terrified" at the prospect of breastfeeding in public.
"Breastfeeding in public was scary for me. I'd never done it before so that was really scary for me."
While Binky has already been filming for her new spin-off show Born in Chelsea which focuses on her becoming a mum, she admitted filming the birth was not something she ever considered.
However, she added that filming for the new show was a lot more "intimate" than filming scenes for Made in Chelsea."I've done it for six years so it's normal for me, but it's obviously a lot more intimate now," she said.
Binky added: "With Made in Chelsea it was a big crew, it was so much easier."
The topic of marriage also came up on the show but both JP and Binky seemed reluctant to discuss the subject.
Host Rylan cheekily asked: "We've had a Made in Chelsea, Born in Chelsea, are we going to have Married in Chelsea?"
Laughing, Binky responded: "I mean I think we'll focus on the baby for now", while JP laughed nervously.
Born in Chelsea will consist of two hour-long specials which focus on Binky and JP getting ready for baby India's arrival. Viewers will see the couple preparing their home for the baby's arrival and dealing with the moment Binky goes into labour.
Will you be tuning in mums? Let us know.