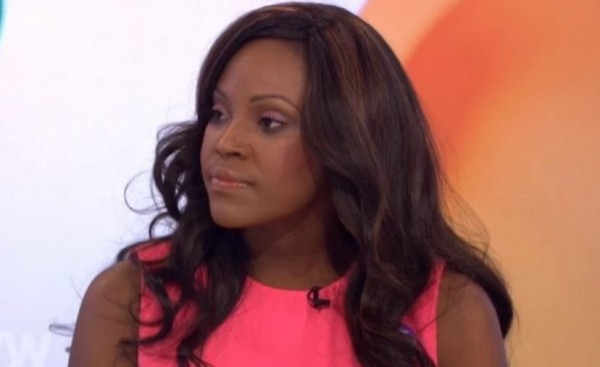 Former Eternal singer Kelle Bryan has spoken about the reality of her life with lupus - a life-threatening blood disease - and in the process has raised much-needed awareness.
The 41-year-old appeared on Loose Women this afternoon, and broke down as she recalled the time she contracted a virus from her daughter, three-year-old Kayori Rose Gudgeon, which caused her organs to shut down.
Wow. @kellebryan is an incredible woman to raise awareness of lupus with her very personal story on today's show. #LooseWomen pic.twitter.com/UuCYYNFBQ7

— Loose Women (@loosewomen) November 7, 2016
Also mum to five-year-old Regan Gudgeon, her illness means she is susceptible to infection, and is sometimes forced to wear surgical gloves when near her children, adding: "Sometimes I can't touch them at all."
"I'm afraid that they'll bring more illnesses from nursery."
Talking to Andrea McClean, Linda Robson, Jane Moore, and Nadia Sawalha, the mum-of-two explained how the illness is stress-related, and opened up about her symptoms.
Love the bones of this lady ! @kellebryan She did an amazing job.#RaisingLupusAwareness #Lupus #IGaveToKelsCoz Who watched it ?? pic.twitter.com/n57aanS1EX

— SARAH JAYNE (@SarahJayne31) November 7, 2016
"For me I had liver and kidney damage, arthritis symptoms, hair loss, mouth ulcers, sores on my face, arms and all down my body and I didn't heal.
"It all coincided when I got sacked from Eternal."
Thankfully, she is doing much better now, and the lupus is no longer on her brain
"I am doing much better. I have just had a brain scan and the lupus is not on my brain and I have another bout of chemotherapy in six months times."
Not surprisingly, many people were quick to thank her for speaking about the illness and took to Twitter to show their support.
@loosewomen @kellebryan Stay strong Kelle..i am still having problems with my kidneys...your a gem hun..takecare. lupus sucks. Xx

— paula carroll (@northwestangel) November 7, 2016
@kellebryan wonderful interview on @loosewomen ! A real inspiration. I had no idea. Sending hugs xx

— Bry (@bpd1) November 7, 2016
@kellebryan such a great interview on #LooseWomen today. You are such an inspiration! Lots of love xXx #Lupus #lupusawareness

— Ellie Torrez (@ellietorrez) November 7, 2016
@kellebryan #Lupus is such a lonely disease to have, so it was great to hear you talking on #LooseWomen. You were a real #lupuswarrier

— sick & always tired (@thelupusdiaries) November 7, 2016
Great job by Patron Kelle Bryan on Loose Women this morning.

All the Loose Women were absolutely lovely!... https://t.co/s6PJ0i43Sy

— StThomas Lupus Trust (@lupustrust) November 7, 2016
@kellebryan you're amazing and loved watching @loosewomen I love it when a strong #woman comes forward to #educated and #inspire - so #brave

— The Sinyakena Story (@sinyakenastory) November 7, 2016
Do you have an experience that you would like to share with MummyPages? Click here and you could be in with a chance of winning €250.
SHARE to spread awareness.