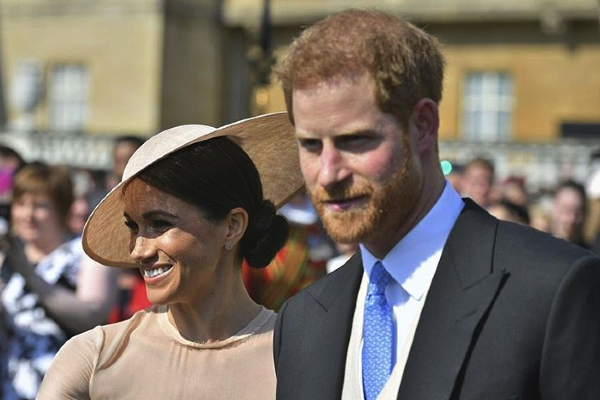 Picture via Instagram
Prince Harry and Meghan Markle have recently been bestowed the titles of the Duke and Duchess of Sussex, reviving a title that has been out of use since 1843.
These titles may actually die out again, though, if the couple doesn't have a son.
Yes, it all sounds a bit like something out of a Jane Austen novel, but it's true.
The Queen passed the Succession to the Crown Act in 2013, which declares that gender will not determine succession to the throne.
This means Princess Charlotte automatically received the title of Her Royal Highness when she was born and remains fourth in line for the crown. She retained the position in spite of the birth of her little brother Louis.
The Duke and Duchess of Sussex with the Bridesmaids and Page Boys, taken by photographer Alexi Lubomirski in the Green Drawing Room of Windsor Castle. #RoyalWedding pic.twitter.com/nFaPQSIzVl

— Kensington Palace (@KensingtonRoyal) 21 May 2018
However, the rest of the peerage system has not received this modern update. Dukedoms can still only be passed down to sons, not daughters.
"Under the current system, any child of the Duke and Duchess won't automatically have a royal title," royal commentator Richard Fitzwilliams explained to the Independent.
"The peerage, unlike the succession to the crown, favours males and if they have only daughters, the title of Sussex could die out as it did before."
Their children will not be born to the title of prince or princess, but rather lord or lady.
Just Married: Introducing The Duke and Duchess of Sussex #RoyalWedding pic.twitter.com/AJbqgiCNFR

— Kensington Palace (@KensingtonRoyal) 19 May 2018
"It may well be that the Queen, as she did with William and Kate's children, who are HRHs, will decree that they [receive the title of prince or princess]," Richard continued.
"This raises an interesting question, what Harry and Meghan, who may prove to be unconventional royal parents when they start a family, want for their children.
"Edward and Sophie, the Earl and Countess of Wessex, didn't want royal titles which their children were entitled to as children of the son of the monarch."
In many ways, these male-favouring succession laws clash with Meghan's feminist beliefs, so it will be interesting to see what she and Harry decide to do if they have kids.