Maia Dunphy has been around the Irish media scene for years, and she still hasn't lost her love for the Emerald Isle and it's caring residents.
The former Dancing With the Stars contestant, current broadcaster, writer and producer recently sat down with us for a chat as she launched Ireland's Biggest Coffee Morning for Hospice Together with Bewley's.
Maia is married to British comedian Johnny Vegas since 2011, despite briefly splitting with him in 2018 before rekindling their marriage. They raise their four-year-old son Tom in Dublin, while Johnny spends most of his time in London raising his son from a previous relationship.
The TV regular opened up about why she was inspired to come on board after seeing the work of the Blackrock Hospice in caring for her grandmother before her death, which was tough for the family to handle.
"Everybody in Ireland is aware of the Hospice and aware of what they do to a greater extent but its only when you have the need to walk through the doors and use their services for friends or family that you understand really what goes on here. My grandmother died in the Blackrock hospice, 11 or 12 years ago now. She was in her eighties so it wasn't a great tragedy but it was very sad for us and it was difficult for my mum as an only child. We were able to come in and see her being so well looked after, it's not a hospital. It's quite uplifting and you know that your loved one is safe."
Irish people often see death in an unconventional way, despite the fact that we're not wonderful at opening up about grief. Our funerals often consist of hilarious stories being told around the fire about the person who has passed, reflecting on memories and having a drink in their honour, quite unlike other countries.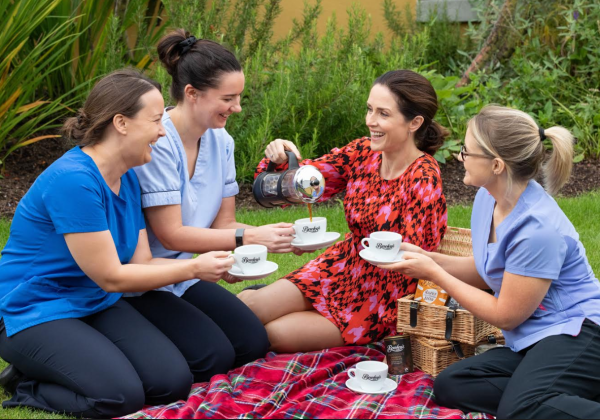 "I think end-of-life care is something that no one really wants to talk about. We deal with death quite well in Ireland, we have a tradition of dealing with death quite positively here but we don't talk about death all that much. It's not a pleasant thing to talk about, but when you come into a hospice like this, everything is faced head on. Everything is dealt with, and the support they offer is really extraordinary. Once you have that connection and understand what they do, you want to stay involved and you want to help. Irish people love tea and coffee, cake and chats and gossip, and the coffee morning is a fun initiative. It's not all doom and gloom. It's a really fun, uplifting thing for the community as well. It's been going 27 years and they've raised €31 million, but it gets bigger every year."
Despite having intimate connections with the UK, Maia always seems to be drawn back to Ireland and its people. Undoubtedly, Ireland is a nation of community-lovers and empathetic people. We know how to give a big welcome, and it's reflected in our palliative care. Does it disproportionately affect women, however, in terms of care-giving responsibilities?
"I remember it was one of Vogue Williams's documentaries about the man who learned how to do his wife's make-up when she got Alzheimer's and he went into Brown Thomas for lesson in it. That was such a touching story because it's so rare. There are so many women doing all of that at home. I'd like to say that it is changing, but I don't know that it is. The carer role is still predominantly women. That slack is picked up by women. It's not necessarily a bad thing, it's just the way it is. When you come to a hospice, a lot of the care staff are women. Every family is different, you do what you have to, and it depends on your personality type."
Four-year-old Tom has clearly inherited Maia's sensitive side, judging by her hilarious and sweet descriptions of the youngster;
"My son is four, but he's such a sensitive soul. You can see personality types already. I read this article saying that by the age of two, your personality type is set. My son has massive empathy. I worry because I'm a really sensitive person and all my life I was told to toughen up but that's not how you deal with sensitive people. We've learned a lot more now about personality types. He's in creche three full days a week and they always say to me how amazing it is that if anyone falls or says 'ouch', he's over straight away saying 'Are you okay, what happened?'. You can't teach empathy and he has it in spades, and that's a really good thing. You can teach right and wrong, but you can't teach empathy. I hope I'll be able to raise him to still be sensitive but to be tough enough to handle the world."
Maia makes sure to hide Tom's face from all of her social media following, unless somebody directly messages her asking to see a photo with his face included. She defends this decision, and makes some valid points about the dangers of social media and data protection in a world where children can be known worldwide before they even know their own names.
"I'm not trying to be provocative or anything. I was asked to do the VIP photoshoot and I kept thinking how cute he was, but you have to make choices. Those pictures are out there in the public domain. Johnny is in the UK and I still believe that the tabloids there are a different beast. I don't want his face plastered all over UK tabloids. I tell stories about him and put up pictures of the back of his head, and if people ask to see his face then I DM them a photo. I'm just not going to stick it all over Twitter. I think it's very new territory, the online world. We used to go on holidays, take 24 photos and develop them. People who put photos of their kids on Facebook or Twitter, they don't do it to endanger their children. They do it because they're proud, and I understand that. I just think that we're living in times where we don't know the implication of that down the line, and it's out there forever."
The TV personality has had her fair share of experiences online, both positive and negative, but says she loves social media for the closeness it gave her to other mums.
"People don't realise that there are consequences to what other people say. There are days when I want to delete my entire social media and never look at it again. You must be so angry to say some of these things, those people without profile photos and who are anonymous. For the most part, I love social media. When I was in London on maternity leave with Tom, and Johnny was away, I was very lonely. There was a real solidarity amongst the women that I was blogging with and a sense of solidarity when we told our stories. It doesn't replace going out and meeting real people, but sometimes in your life you need it."
The public can support Ireland's Biggest Coffee Morning for Hospice Together with Bewley's on Thursday, September 19 by hosting or attending a coffee morning, or by texting COFFEE to 50300 to donate €4 to Hospice Together.