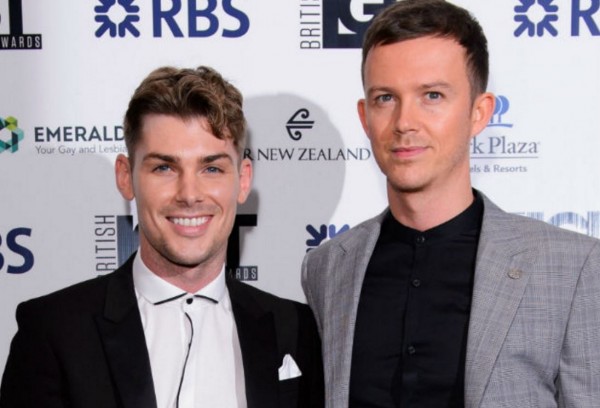 Congratulations are in order this week for Hollyoaks star Kieron Richardson and his husband, Carl Hyland, who have become fathers for the very first time.
The couple, who have been married for almost two years, welcomed twins into the world on May 22.
An ecstatic Kieron took to social media to share the wonderful news, sharing a photo of two little baby tags bearing the names 'Chase' and 'Phoebe'. According to the tags, Chase is the older sibling, by 23 minutes!
"Welcome Chase and Phoebe Rae," he wrote, to the delight of his legion of Twitter fans.
It took a matter of mere minutes for the 31-year-old's followers to jump in and congratulate both him and his husband on their wonderful news.
Welcome Chase and phoebe rae x pic.twitter.com/GdVT8QI5ac

— Kieron Richardson (@MrkieronR) May 26, 2017
The loved-up couple announced their wonderful baby news back in December, with the sweetest Christmas-inspired Instagram video.
In the adorable footage, viewers were given a close-up of two 'Baby On Board' decorations on the tree; the camera then panned out to show Kieron and Carl ripping open a 'present', which actually turned out to be a sign that read, 'Twins coming 2017'.
The couple were elated by their news, having previously spoken about their tough and, at times, heartbreaking IVF journey.
Kieron previously told The Mirror that their hopes to become parents in 2016 had been dashed.
"Unfortunately, like anyone who is trying for a baby through IVF – whether they are gay couples or not – it is a lottery," he said.
"We have tried four times, with the same surrogate mum, and we have fallen into that 30 per cent bracket of it not working."
However, the couple remained defiant, pledging not to 'give up the fight': "We are going to keep going until it is successful."
We are so delighted for Kieron and Carl, that their dream of becoming parents has finally come true.
In a week that has brought so much tragedy and so many tears, we are also so grateful for wonderful news like this. We're sending our congratulations, and lots of love to the proud new daddies – and plenty of luck for the roller coaster of a journey that's ahead of them!
What do you think of their choice of names, mums? Let us know!