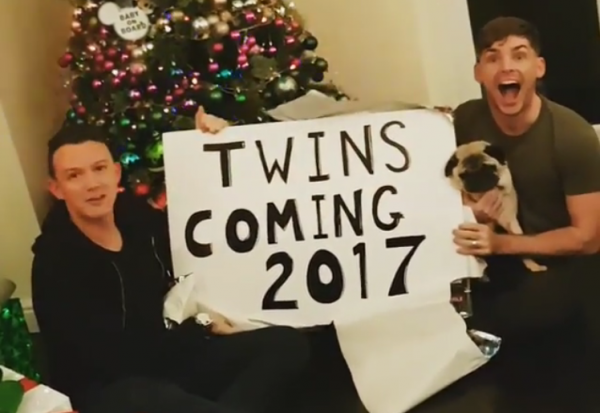 It's a massive congratulations to Kieron Richardson and husband, Carl Hyland who have just announced they are to become dads.
The pair who had been open about their struggles with IVF took to Instagram to announce the good news with a video captioned:
"Merry Christmas to us thanks to the British Surrogacy Centre".
With their Christmas tree decorated with signs saying "baby on board", the pair unwrapped a large sign revealing they were expecting twins.
Three months ago, Kieron spoke publicly about the couple's heartbreak after their IVF attempts were unsuccessful.
"We were hoping to have a baby this year," the actor told The Mirror.
"Unfortunately, like anyone who is trying for a baby through IVF - whether they are gay couples of not - it is a lottery."
"The statistics when we first started it were a 70pc success rate.
"We have tried it four times, with the same surrogate mum and we have fallen into that 30pc bracket of it not working."
But the pair were determined saying:
"We have not given up the fight and are still continuing. We are going to keep trying until it is successful."
A huge congratulations to Kieron and Carl on the best Christmas present they could have hoped for.