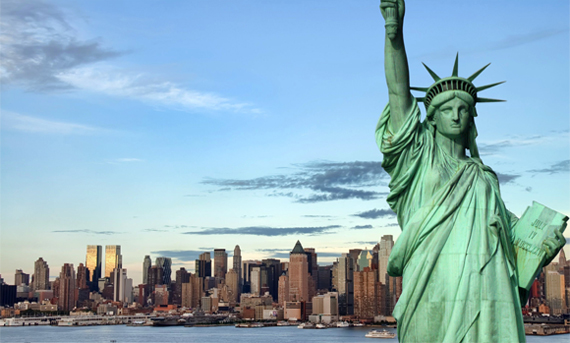 New York is a wonderful destination for a family holiday.
Its sights are world class, and it's a playground for kids and grown-ups alike.
It's wise to plan carefully and be prepared, as the fast-paced environment that makes the Big Apple so vibrant can be overwhelming if you have little ones to keep track of.
1. Plan your trip
With so much to do in the Big Apple, it's a good idea to make a list of sights and attraction you want to get to, before you set off. Do your research on the must-see sights in the city - Central Park, the Empire State Building, Schwarz toy store, Times Square, Broadway - but be realistic. New York is a very big place, you're probably not going to get to everything in one trip, so prioritise.
2. Book ahead
Accommodation in New York can be pricey, especially in the main tourist areas like Times Square. Shop around for deals and book well in advance as costs creep up significantly the later you leave it. If there are any restaurants, or attractions you really want to see, make sure to book ahead to avoid disappointment, especially during peak season.
3. Use meeting spots
Attractions in New York, like Central Park and the Bronx Zoo, are big enough to get lost in, even for adults. It's wise to give out maps to each person in your party and stop to take a few minutes to circle a point on the map to meet at if you become separated. Showing your children 'the spot' is a good thing to do first if they are little because it can help as a frame of reference on where to go to look for you if they wander away.
4. The best time to go
New York can be stifling hot in summer, and freezing cold in winter so the best, and most beautiful times to go are usually spring and autumn when the weather isn't too extreme. New York is a non-stop holiday party from early December through the start of the New Year. Celebrations of the season abound in festive holiday windows and events such as the lighting of the Rockefeller Center tree and the Radio City Christmas Spectacular. However, keep in mind that hotel prices go sky high, and the crowds are hectic. If you'd rather have more of the city to yourself, better chances at restaurant reservations and shows, and easier access to museums and other attractions, choose another time of year to visit.
5. Pack light
New York is one of the best cities in the world for shopping, so you'll probably want to leave plenty of room in your luggage for gifts and new clothes and toys.
6. Best ways to get around
Walking: This is probably the best way to get to know the city, but be warned, New York is a huge city and comfortable shoes are a must. Always be aware of traffic flow and what's happening around you.
Subway: If you tire of walking, the subway is the fastest and cheapest way around the city. The Pay-Per-Ride Metro Cards are the best way to buy subway fares for a family. You can swipe it up to four times in a row, for up to four people travelling together.
Yellow taxi: $2.50 initial fare plus $2/mile. Riding in a yellow cab is must when you visit the Big Apple.
Water taxi: Boats pick up twice an hour at various stops around the city. This is a fun and stress-free way to get around, especially in the summertime.
7. Get your bearings
New York City is made up of five boroughs, but most tourists stick to Manhattan, where most major sights and attractions are. Getting orientated is pretty easy because most of Manhattan's streets are laid out on a logical grid system. Study a map of New York before you leave on your holiday, so you don't end up wandering around lost for hours when you get there.
8. Best views
Taking in the whole city at Bird's Eye view or from a distance, will be an experience you won't forget in a hurry. Here are the top viewpoints in the city, which you will want to factor into your trip.
Empire State Building: The views from the observation platform on the 86th floor of the Empire State Building are incredible.
Staten Island Ferry: The hour-long roundtrip from Manhattan to Staten Island takes you into New York Harbour for a terrific up-close view of the Statue of Liberty, for free, which is a real New York thing to do.
30 Rockefeller Center: Enjoy fabulous views of the city from its three-floor observation deck on floors 67, 69, and 70.
Statue of Liberty: A trip out to this iconic New York landmark is well worth the long queues that are pretty unavoidable. The viewing point is sometimes closed to the public throughout the year, so check up on this before you make the trip out.
Image via Pinterest.