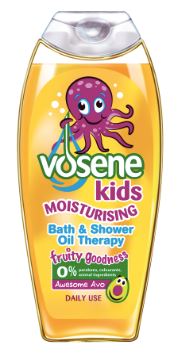 It can be very distressing for mums when their little one suffers from dry skin as it can make them uncomfortable and restless. When treating the problem, it is
important to use a product that not only helps to soothe and protect but is suitable for children.
Vosene Kids Oil Therapy produces a mildly foaming, soothing, milky bath that will help rehydrate and protect dry and very dry areas.
The moisturising oil is specifically designed to care for delicate skin and it won't leave a sticky or greasy residue.
Containing 33% OMEGA from Avocado Oil, Pro-Vitamin B5 and Vitamin E, it is dermatologically tested and paediatrician approved.
The oil is soap, parabens and preservative free and doesn't contain mineral oil or silicone.
It can be used in either the bath or the shower and while it is mild enough for children it is great for grownups as well.
After gently cleansing and hydrating your little one, it leaves a soft, smooth and healthy feeling skin.