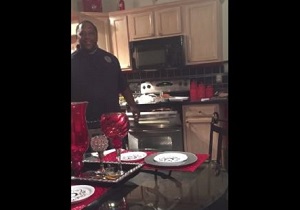 A pregnancy announcement is always an emotionally-charged affair, and this woman's surprise for her husband is one of the sweetest things we have ever seen.
Dana Griffin-Graves has struggled for almost 17 years to have a child, and has endured four heartbreaking miscarriages and a still birth during that time. After finding out last week that she is almost five months pregnant, she decided to capture the moment she broke the news to husband Arkell, so that they can remember it together forever.
Uploading the video to YouTube under the title 'Buns in the Oven', Dana is heard telling Arkell that "there's some stuff in the oven" as he prepares their evening meal.
After carefully checking the oven, the true meaning of Dana's words finally hits Arkell, and his reaction is absolutely priceless.
Dana goes on to confirm that she is five months pregnant, and that their baby boy is due February 16.
Speaking to local media after the video went viral this week, Dana said: "His reaction was just priceless. I wasn't expecting that at all. I knew that he would probably be emotional but I definitely was not expecting the reaction I received."
Check out the video below, and have the tissues at the ready.