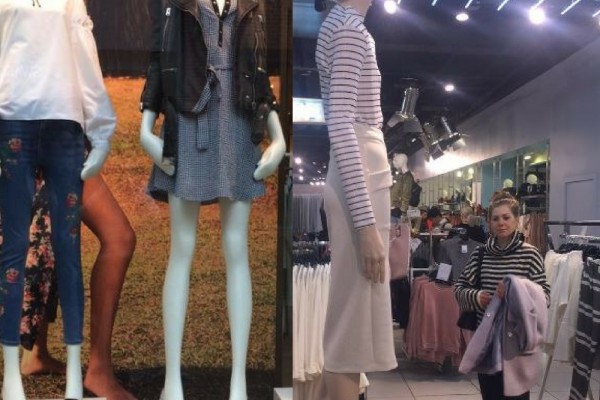 Zoe Mason's 15-year-old daughter was so angered by the mannequins to model Topshop's clothing that she vowed never to shop there again.
Zoe, from Herefordshire, said her eldest daughter alerted her to the incredibly skinny mannequins after a shopping trip.
Her daughter and a friend had gone shopping for a birthday present but they were distracted by the skeletal mannequins on display in Topshop's window.
Topshop came under fire two years ago for using skinny dummies resembling "famine victims" to model children's clothing and the high street chain said they would stop placing orders for these dummies.
Zoe said that her daughter took a photo to show her when she got home. "She thrust her phone under my nose and showed me this picture and said, 'Look at that, Mum! I mean just LOOK at it' ", Zoe explained.
Her daughter said the mannequins made her consider why many of her friends had low self-esteem and poor body image. "I mean, it's not surprising that so many of my friends think they are fat or just don't like their bodies", the young girl said.
"Are girls not meant to be happy whatever size they are? Are we not meant to even EAT?!
"I like food. I like to eat good food but LOOK AT THEM, I am so ANGRY.
"I am never shopping there. Topshop needs to hear the things I hear when girls talk.
"Places like that making my friends think their bodies aren't beautiful and that they shouldn't eat food they love and it makes me want to scream."
Top shop has mannequins like this and we wonder why 5% of high school age girls have an eating disorder #topshop pic.twitter.com/AogoZpsGE8

— Macerator (@ProbablyAlice) March 3, 2016
Zoe said she was alarmed by these mannequins and how they might influence young girls. She decided to make a complaint to the store but nothing had changed the next day.
The mother-of-three told Metro UK: "It's just outrageous that a major high street store think it is ok to portray children in this way.
"What makes it even worse is that the company promised to get rid of these mannequins after the furore a few years ago but there they are being used again."

Zoe shared her daughter's story to Facebook where it's received almost six hundred shares from concerned parents. One mum responded writing: "Good on your daughter, my 14 year old is so depressed about her image all the time I will show her this later."

So far, Topshop have declined to respond.