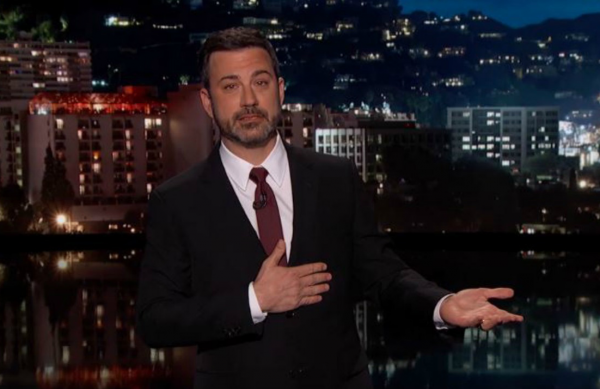 US comedian Jimmy Kimmel has returned to living rooms one week after revealing his son was born with a heart defect.
"Our son Billy is doing very well," Jimmy said to thunderous applause. "He's eating, he's sleeping, he's getting bigger."
Kimmel and wife Molly McNearney welcomed their second child William - or 'Billy' - on April 21. Shortly after his birth, a nurse at Cedars-Sinai Hospital in Los Angeles noticed that Billy's skin was purple. This prompted doctors to x-ray the newborn and they found that he had a heart defect.
An echocardiogram eventually revealed that Billy's pulmonary valve was blocked, and there is a hole in between the two sides of his heart. After a gruelling three hours at the Children's Hospital Los Angeles (CHLA) in surgery, performed by a world-renowned cardiac surgeon, Billy was on the way to recovery to close the holes in his hearts.
During his emotional address to the audience, Kimmel called on the US Congress to change their decision to revoke Obama-care: "Until a few years ago, millions of us had no access to health insurance at all. Before 2014, if you were born with congenital heart disease like my son was, there was a good chance you'd never be able to get health insurance because you had a pre-existing condition."
He implored politicians to prioritise the healthcare of children: "If your baby is going to die, and it doesn't have to, it shouldn't matter how much money you make. I think that's something that, whether you're a Republican or a Democrat or something else, we all agree on that, right?"
sincere thanks for the outpouring of love & support - Dr. Jane is keeping a close ear on Billy, who is very well - XO pic.twitter.com/QgSUminhmg

— Jimmy Kimmel (@jimmykimmel) 2 May 2017
Last night, the chat show host returned to the helm of Jimmy Kimmel Live! He played a video of Billy smiling, which Kimmel quipped was either because so many people had given to CHLA, which saw a surge of donations after his speech went viral, or 'because he has gas'.
On a more serious note, Kimmel hit back at critics that labelled him 'out of touch' and 'elitist' for calling for free healthcare. He offered an apology to his critics, saying. "I would like to apologise for saying children in America should have healthcare. It was offensive and I hope you can have it in your heart to forgive me."
"So, now the health care bill moves from the House to the Senate, where hopefully some kind of common sense will prevail," he said.
Kimmel also had Louisiana Sen. Bill Cassidy appear on Monday's show. Cassidy told CNN last week that he can only support a health care bill that passes the 'Jimmy Kimmel Test'.
"Would the child born with a congenital heart disease be able to get everything she or he would need in that first year of life ... even if they go over a certain amount?" Cassidy, who is also a physician, said last week about how the test would work.
"On the other hand, you have to have a healthcare plan that works for the patient as well as the taxpayer," Cassidy said.
Cassidy, who is a Republican, said: "We need to have something that is cheaper than an Obamacare policy but still gives adequate coverage so that if somebody has a crisis, they have the coverage."
"Thank you for naming a test after me," Kimmel told Cassidy. "I always figured if I ever got a test named after me it'd be for some embarrassing sexually transmitted disease."