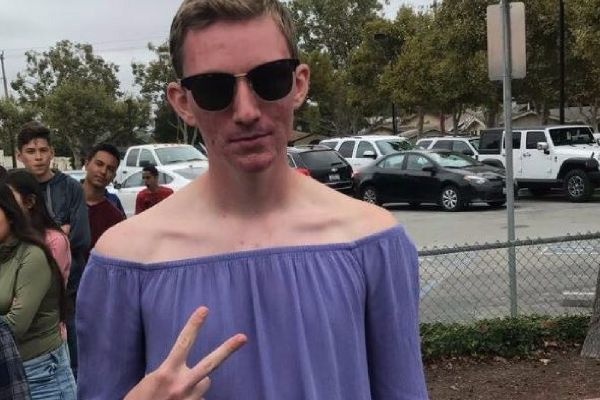 After a number of female high-school students at San Benito High School in California were admonished for wearing off-the-shoulder tops to school, their male classmates decided to support them in the best way possible.
On the first day of the new school year, 20 young women were sent home from school for wearing this kind of top which the school says violates the dress code.
Students were outraged by this and took to social media, calling the rule "sexist" for singling out girls.
Some male students were so bothered by it, they decided to support the girls by donning the tops themselves to see what would happen if they wore them to school.
The boys wore various off-the-shoulder and bardot style tops to school in support of their classmates who had been sent home.
Andrei Vladimirov told Teen Vogue why he decided to wear a purple off-the-shoulder top into school.
Shoutout to Brody and Adryan for supporting our protest pic.twitter.com/abkC5pJsQU

— j (@ocean__avenue_) August 15, 2017
"Women deserve to be treated with the utmost respect, and this entails being able to dress as one pleases", he said.
"Women should be able to wear what they want without being systemically objectified — treated as if they have no personal sovereignty", the intelligent young man explained.
According to Yahoo! the rule had been in place for many years but had not been enforced until this year. School officials say the rule is for the "safety" of the students.
However, students disagree, saying they have been allowed to wear these tops in the past.
"The dress code policy hasn't been an issue the past two years I have been here," one 16-year-old student said.

OR THE FACT THAT ALL SENIOR GIRLS WEAR AN OFF THE SHOULDER SHIRT IN SENIOR PORTRAITS!!!!! https://t.co/sexuF1o3wL

— Thomas Baxter (@THoe01) August 14, 2017
She added that last year she wore such tops to school all the time and "it was OK".
She said that: "The administration says that it is for our own safety, but I don't understand what they are keeping us safe from.
"I really don't think that there is someone dumb enough to pull down a shirt first of all — they have no right to touch me or anyone else at all. I mean, there is no point in that. They are focusing on the less important things here".
San Benito High School principal Adrian Ramirez said the boys' protest had been noted by staff, commenting: "I've had 20 to 25 students who have come in to meet with me in small groups or individually and it's been a good process in getting their insights in regards to some of the issues (regarding the dress code)."
One student even dug up the yearbook from the previous year to show that many high school seniors wore off-the-shoulder tops for their yearbook photo.
These students have certainly started an interesting discussion – what do you think mums?