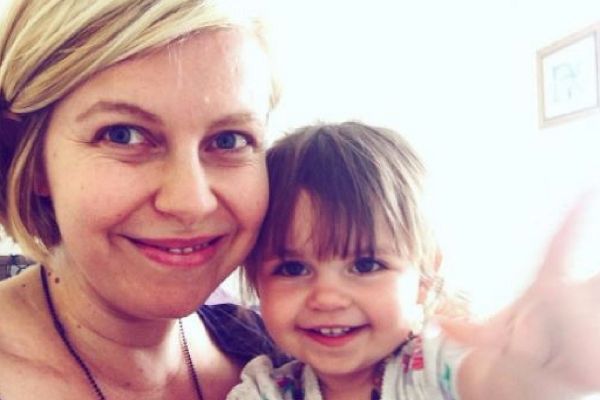 After giving birth to her daughter Juniper, actress and writer Lindsay Wolf wasn't very excited about wearing jeans. Like many other postpartum mothers, she couldn't fit into her old jeans and needed to get a size 14 (UK size 16 jeans).
Initially, Lindsay hated her new jeans. However, after some time wearing them, she realised she no longer cared about the label on the jeans and decided to focus on how good she felt instead.
She's since posted a humorous apology letter to her beloved size 14's alongside a photograph of herself wearing them.
"Oh hey there, #size14 jeans. It's been awesome wearing you. I'm sorry I judged you so much before I tried you on - you'll have to forgive me for all of the self-criticism I did back when I was desperately trying - and failing - to be a #size2," Lindsay wrote.
In a previous Instagram post, Lindsay had shared a photo of herself aged 23, when she was extremely thin. Lindsay revealed that ten years ago, she "was self-conscious, critical of her physical shape, and always either on a diet or rebelling from one."
Heartbreakingly she said that at 23, she "only saw flaws" when she looked in the mirror. Since having her daughter, she's learned to love her body and is now much happier than she was ten years ago.
The 33-year-old mum made an emotional confession that she had finally accepted her postpartum body for what it was and wearing jeans that fit comfortably helped her feel good in her own skin.
"I just didn't know I could feel worthy while relaxing and enjoying myself without the added pressure of being thin. You have helped me see I can be happy, healthy, and whole in my #postpartum body. You have helped me fall in love with the woman in this photo."
She's the latest mum to speak out about her feelings about her postpartum body.
Mum Ruth Lee recently revealed she was "horrified" by her postpartum body, in particular, her tummy.
She had been following many pregnant models on Instagram and admired photos of their postpartum bodies and hoped she would look equally good.
However, when she took a photo of her belly which displayed her healing wound from her C-section and her stretch marks from pregnancy, she admitted she found it "hard to believe" this was her body.
But instead of deleting it, she decided to share it online to encourage other postpartum mums to "be kind" to themselves.
Now that's a message we can all get on board with.