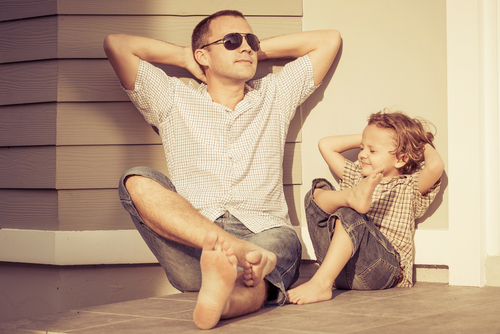 While it was more common to see a woman cutting back on their work hours to spend time with their kids, it seems more and more dads want to get in on the action as well.
According to the Office for National Statistics, more and more fathers are choosing to cut their hours to help with childcare responsibilities.
The results showed that 992,000 men, a jump from 1998's figure of 376,000, are choosing to work fewer hours so that they can be with their kids more.
Talking about the results, Karen Mattison from recruitment agency Timewise says: 'The data shows that part-time work is something people choose to do and is not only for mothers and women. Being able to work part-time allows people the freedom to do what they want with the rest of their lives and more people are willing to take that salary sacrifice to do this.'

However, while more and more men are choosing to reduce their working hours, there are still many more who struggle to get the time off work for family commitments.
A previous report showed while two thirds of men under-35 do the school drop offs and collections, sadly, 44% of those surveyed admitted to having "thrown a sickie" due to family commitments with others saying they would be nervous about asking for a day off for a family occasion.
Sarah Jackson from Working Families would like more done for families, saying: "Workplace culture is very important to working families, and we strongly encourage employers to work with the grain of family life, so that parents can give of their best at work and at home."

It's great to see couples parenting as a team and that it is longer simply accepted that men go to work and women mind the kids.