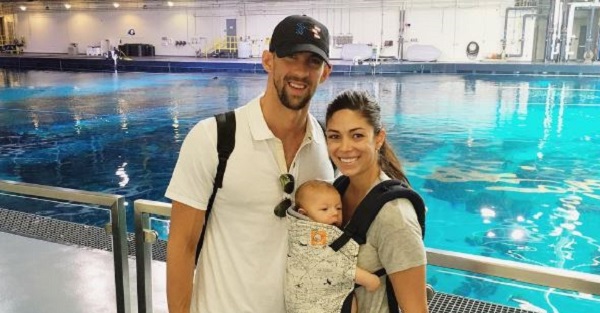 In any given situation involving grown-ups and babies, the latter is almost always going to steal the spotlight – and Boomer Phelps has proven this in style at the Rio Games.
While his father, US Olympic swimmer Michael, may have been picking up two gold medals at last night's ceremony; all eyes were firmly fixed on the adorable three-month-old.
Having just won the 200m men's freestyle relay, and been awarded his twenty-first Olympic medal, there was only one person Phelps wanted to celebrate with: his baby son.
RT KGWOlympics: Watch #MichaelPhelps kiss his son Boomer after the 20th gold medal https://t.co/zwM7NVnZB1 pic.twitter.com/cqod67srKh

— pdxnews (@pdxnews_) August 10, 2016
Spectators melted as they watched the 31-year-old run over to the crowd, where partner Nicole Johnson stood, and plant a smacker of a kiss on his tot's face!
Indeed, the moment proved so darn adorable that even British commentators Rebecca Adlington and Helen Skelton couldn't help but shed a tear!
Watching from the commentary box, mum-of-one Helen became visibly emotional as she said: "What an amazing family unit. Oh, we've both gone."
Boomer Phelps is already following his dad's footsteps I see pic.twitter.com/xMt2hKvhEt

— Claudia Koerner (@ClaudiaKoerner) August 9, 2016
Of course, baby Boomer had already charmed the masses earlier in the Games, appearing in the audience wearing noise-cancelling headphones bearing the USA flag.
We reckon we'll be seeing plenty more of this adorable tot before the Games are over.
SHARE with a fan of Phelps who will adore these photos.