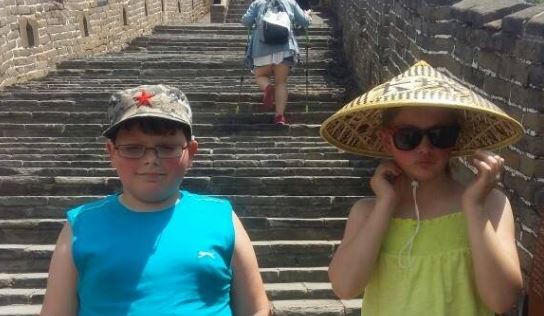 Eight-year-old Daniel Haslam suffers from optical atrophy and will, sadly, go blind in the next six years.
To ensure he sees as much as he possibly can before this happens, his mum Carol created a bucket list that will bring Dan on as many adventures and see as many things as possible.
However, after speaking to the Today FM's Anton Savage Show back in February about a her son's condition, Carol and Dan were given an incredible gift from Gary O'Keeffe, who said he would be "willing to fund a really big trip; a once in a lifetime trip".
Remember Dan and his bucket list of adventures? Well he checked a BIG one off his list! His mam Carol joins us next pic.twitter.com/2Dqdx7RErs

— TheAntonSavageShow (@AntonSavageShow) June 23, 2016
Gary, from Canduco Recruitment, lost his own eye a few years ago and had great empathy for young Dan and his family when he heard their story.
So where did they go?
Well, speaking on the Anton Savage Show this morning, Carol revealed that Dan had decided to go to the Great Wall of China – a once in a lifetime trip.
Here are the whole family after getting to the Great Wall in 38 Degrees weather pic.twitter.com/oqkfgwBVm7

— TheAntonSavageShow (@AntonSavageShow) June 23, 2016
Speaking to Anton, the mum-of-two said that they were concerned China "would be a sensory overload", before adding that Dan didn't have any problems on the trip, saying "he has enjoyed every bit of it."
Describing the minute they saw the Great Wall, Carol explained that Dan exclaimed: "This is the best day ever; I could get used to this life".
The family, who are due home tomorrow, were also taken to a number of tourist spots including a panda sanctuary where they got to see a week-old panda.
Us, jealous? No...
To donate to Dan's GoFundMe page, you can click here.
SHARE to show how one person's generous donation can change someone's world.