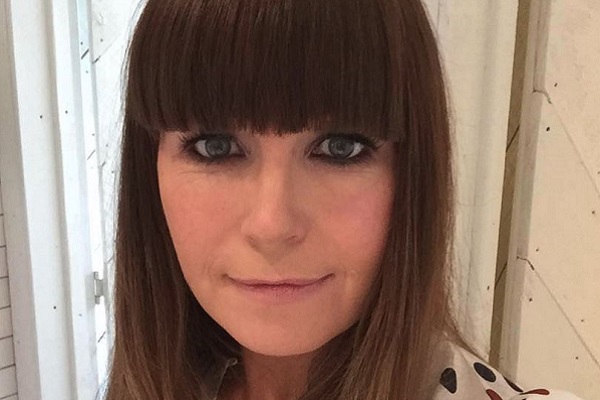 There is something special about Darkness Into Light, an initiative which sees thousands of people all over the country take part in a powerful movement against suicide. And if you were curious about the kind of work the event is benefiting, look no further than Frances and Zoee Crean.
The mother-daughter duo are hoping to raise €1,000 for Pieta House at this year's event – taking place on May 6 – after their difficult start to 2017.
As many of you will remember, earlier this year, we shared a powerful and heart-wrenching post that Frances wrote about her teenage daughter's harrowing mental health battle.
Frances, a blogger at Organised Mayhem, revealed that just before Christmas Zoee had presented her with a letter – undoubtedly the worst thing she had ever read in her life. In it, Zoee revealed that she had taken an overdose of paracetamol the day before.
Thankfully, while she had been very ill afterwards, Zoee survived the traumatic incident – but it served as a powerful cry for the help she so desperately needed.
In the note to her mother, Zoee wrote: "I am sorry I am doing this to you. I am sorry this is happening again. I'm sorry I put you through so much…I don't want to die, but I do want this to stop."
In a poignant blog post, Frances shared the depth of her anguish over Zoee's own torment: "Here I am, sitting with my beautiful girl who has been on the most amazing life journey with me, and she is in so much pain she doesn't know what to do and, at times, doesn't want to be here anymore. How do I save her life? I have to."
After receiving treatment in hospital, Zoee went to Pieta House for support – and it was a major source of comfort to both her and her mother.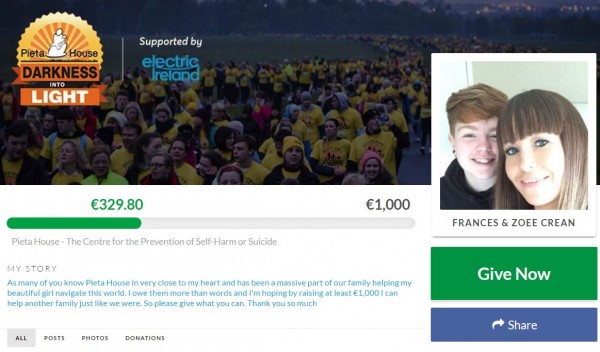 "There needs to be staff members from Pieta House in every A&E in the country. We were greeted with a smiling face and an offer of tea or coffee; there were no tilting heads or that look of dancing on eggshells. There is such a sense of peace in their building but yet you know it's a place where they deal with such intense pain from families that have lost a loved one to suicide, from young and old who need help; to parents and family members lost and needing guidance," wrote Frances at the time.
Now, two months on, Frances and Zoee want to do their bit to give back, and will be taking part in the Darkness into Light event in their area. Sharing her mission statement, Frances urged people to donate generously for such a wonderful and much-needed cause.
"As many of you know, Pieta House is very close to my heart and has been a massive part of our family, helping me beautiful girl to navigate this world. I owe them more than words, and I'm hoping by raising at least €1000, I can help another family just like we were," she wrote.
If you would like to help Frances and Zoee with their campaign, click here. And if you would like more information about Darkness Into Light, just follow this link.