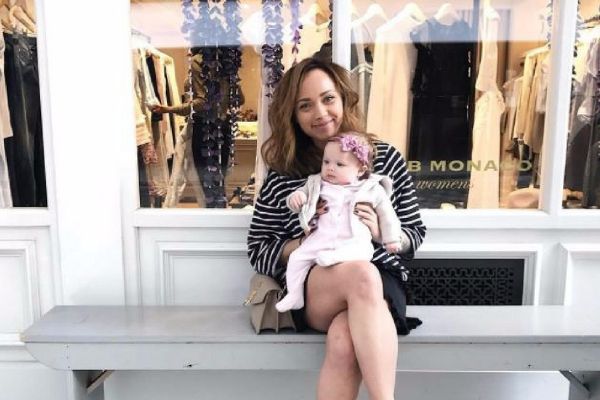 At first glance, blogger Samantha Maria appears to have it all. She's carved out a successful career in the competitive fashion blogging world, has almost 600K followers on Instagram, has established her own brand Novem and Knight, and recently had her first child.
While it may seem like Samantha is on top of the world, things haven't always been so straightforward for the young mum.
Early in pregnancy, she suffered from prenatal depression, a form of depression that affects up to 20 percent of women during pregnancy. She spoke about her experiences in a candid blog post, entitled Confessions of a Pregnant Woman.
Samantha explained: "Even though I've experienced many negative thoughts during pregnancy, it doesn't mean I'm not happy to be pregnant, which I feel gets confused by people when you (God forbid) share anything negative. It almost feels taboo not to be loving every second."
She wrote: "Before I was pregnant, I had never even heard of pre-natal depression. When I first started experiencing it, I thought I was going mad. I didn't understand why I felt so extremely low."
Samantha found it hard to reconcile how she was feeling with how she believed she was meant to feel – believing that she ought to be "glowing inside and out" and "happy and bubbly".
"It started for me during my first trimester and still affects me now. It creeps up on me when I least expect it and usually lasts for a few days. I haven't suffered from any type of depression until now, and I have a newfound respect for anyone struggling with it.
"Don't confuse this with 'typical pregnancy hormones'. I get to stages of not wanting to be here anymore, having no motivation, not even to stand up. I feel like life is completely pointless and that there is no point in anything. I don't want to eat, I don't want to talk, I don't want to exist," she revealed.
Samantha also struggled with her image, as expressing herself through her clothing is such as big part of her life as a fashion blogger.
Like many other mums-to-be, she also feared losing her sense of identity. "I'm still Sam, not just a 'mum' now! I have never in my life wanted to just be identified as a mum – it is an amazing title to have and share with my existing self, but just because I am popping out a human doesn't mean that everything I live and breathe will be about that human," she wrote.
Samantha was overjoyed to give birth to a beautiful little girl named Indie, who is now seven months old.
While she is now loving life as a mum, the early days were much more difficult. Indie needed to feed constantly, and Samantha found breastfeeding to be very difficult.
When her daughter was three months old, Samantha experienced "the hardest time, mentally". She explains: "I'd never been around other mums, so I had no idea of what was normal and what wasn't. So, when I was in constant tears and experiencing anxiety attacks, I just thought that's how motherhood is.
"I wanted to be the best mum I could be, I was just struggling inside at the time. I would see mums walking around with their babies and think, 'Why aren't they crying from stress? What's wrong with me?' I slowly realised that I just needed extra help, and I should have asked for it!"
Thankfully, Samantha spoke to her family about her feelings, and they insisted she got extra help.
She urges other new mums to seek help if they are unhappy: "If you are overwhelmed, don't be ashamed to ask for help. It is so important for your sanity."